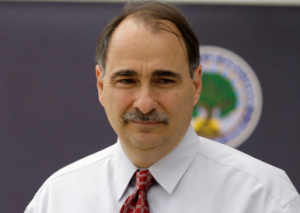 David Axelrod, formerly a top adviser to President Obama, has joined NBC News and MSNBC. He'll contribute to broadcasts on both networks, according to NBC's press release.
Axelrod has advised Obama in the White House and also served as a strategist for both presidential campaigns. Another former Obama adviser, Robert Gibbs, is also a contributor for the network.
The full press release below:
DAVID AXELROD JOINS NBC NEWS AND MSNBC AS SENIOR POLITICAL ANALYST

FEBRUARY 19, 2013 – David Axelrod, former White House senior advisor and senior strategist for President Obama's 2008 and 2012 campaigns, has joined NBC News and MSNBC as a senior political analyst. He will contribute frequently across all broadcasts and platforms of both networks.

For nearly three decades, Axelrod guided successful campaigns at every level on the ballot. He began his career as a journalist, spending eight years as a political writer, columnist and City Hall bureau chief for the Chicago Tribune before stepping into politics in 1984. He founded Axelrod and Associates, a political and media consulting firm which became AKPD Message and Media. He later founded the communications management firm ASGK Public Strategies.

Axelrod, an alumnus of the University of Chicago, was recently named director of the university's new Institute of Politics, and as a Distinguished Senior Fellow at the Harris School of Public Policy. He previously worked as an Adjunct Professor of Communication Studies at Northwestern University.

The NBC News and MSNBC roster of esteemed political analysts also includes Steve Schmidt, former senior campaign strategist and advisor to the 2008 Presidential campaign of Senator John McCain, Michael Steele former chairman of the Republican National Committee and two-term former Governor of Pennsylvania Ed Rendell.
Have a tip we should know? tips@mediaite.com