Former Obama Official Inexplicably Insists Government Moved At 'Light Speed' Declaring Libya Terror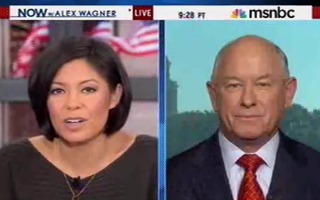 During a segment on MSNBC's NOW, former United States Assistant Secretary of State for Public Affairs P.J. Crowley defended President Barack Obama's handing of the attack on an American consulate in Libya. He insisted that the administration took its time in declaring the September 11 assault in Benghazi to be a terror attack for more than a week because they were conducting a thorough investigation. Crowley insisted that the actual declaration that the attack was terrorism occurred at "light speed" by the standards of the federal government. The government has, however, declared attacks that have occurred since Libya as being terrorism far faster. This suggests, at the very least, the national security and intelligence community requires a new definition of light speed.

RELATED: Red Eye Panel Asks How NYT Can Find Frappe-Sipping Terrorist, But Obama Can't
In a discussion on MSNBC about members of the Republican party "politicizing" the attack on the American consulate in Benghazi, Crowley told the assembled panel guests that he viewed the government's labeling that attack as a terrorist incident to have been both swift and deliberative.
"For the intelligence community to spend eight days before Matt Olsen, the head of the NCTC, to say this was an act of terrorism – which is applying a legal definition in terms of understanding not only what happened but also the political agenda behind it – actually, from a government standpoint, was light speed," said Crowley.
"Sometimes, folks need to do the actual factual research before they can go out proclaiming things to be the work of extremist terrorists or not," MSNBC host Alex Wagner concluded.
The first time an American official indicated that the federal government viewed the attack in Libya as a premeditated terrorist incident, as opposed to a spontaneously occurring mob overrunning the American consulate after a heated demonstration against a YouTube video, was when National Counterterrorism Center Director Matthew Olsen said as much during September 19 testimony before members of the U.S. House.
On September 20, White House Press Sec. Jay Carney told reporters on Air Force One that the White House had determined the attack in Libya was a "self-evident" terrorist incident – contradicting several days of official White House messaging regarding Libya. Carney had previously only referred to "extremists" who perpetrated the attack, even amid pointed questioning by reporters as evidence mounted that the attack in Libya appeared pre-planned.
If the attack in Libya was proclaimed to be terrorism by the American federal government at "light speed," than the attacks that have occurred since the September 11 attack have defied Einsteinian physics.
When a car bomb exploded in central Beirut on Friday, killing eight people — including the head of Lebanon's intelligence agency – and wounding 80 others, the U.S. federal government was quick to issue unequivocal condemnations of that "terrorist attack."
"The United States condemns in the strongest terms the terrorist attack today in Beirut that killed Lebanese Internal Security Forces Information Bureau Director Wissam al-Hassan and at least seven others, and wounded dozens more," read the statement released that day by National Security Agency spokesperson Tommy Vietor.
The White House appears to be well aware that a resurgent Al Qaeda, among other networks carrying out terrorist acts in the Middle East, seems to be on the offensive. On Sunday, Jordanian counterterrorism officials broke up a plot, code named "9/11 the second," which would have targeted shopping centers and Western diplomats. The plot, including a suicide bomber offensive augmented by follow-up rocket attacks, would have targeted American and British diplomats serving in Jordan.
The White House seems to be correcting for their initial gross underreaction to the attack in Libya, but few but the president's supporters would pretend that the deadly assault on an American compound was determined to be terrorism at a pace resembling anything close to "light speed."
> >Follow Noah Rothman (@Noah_C_Rothman) on Twitter
Have a tip we should know? tips@mediaite.com