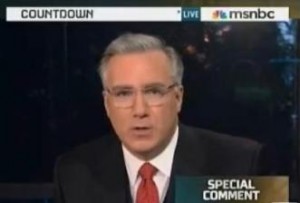 Well this is surprising.
Former President Bill Clinton told FireDogLake today he would not attend a free clinic event in Arkansas Saturday because MSNBC anchor Keith Olbermann had "politicized" the event.
From the post:
Eve ran into Clinton Thursday in the gift shop of the Clinton Library. She's in Arkansas covering the Keith Olbermann's free clinic event, organized by the National Association of Free Clinics. The former President is in town for the 5th anniversary of the Clinton Library…Clinton responded that Olbermann was politicizing the clinic, and that it wasn't helpful for Olbermann to do that. He said he did not feel he could show up now, because the event had turned political.
Olbermann began his endorsement of these free clinics on his hour-long Special Comment show on October 8. The Arkansas event was just one of six Olbermann had made part of his larger push for health care reform. According to FireDogLake: "Olbermann, who has invited his viewers to contribute to the National Association of Free Clinics in advance of the event, has said on his show that 'I want Sens. (Blanche) Lincoln and (Mark) Pryor to see what health care poverty is really like in Little Rock.'"
On his website, there are links for people to contribute to the event. Obviously, a former Democratic president attacking MSNBC's most popular host is a rare, and somewhat surprising, situation. We'll see if Olbermann has anything to say about it tonight or next week.
Here's the original announcement by Olbermann:
—–
» Follow Steve Krakauer on Twitter
Have a tip we should know? tips@mediaite.com