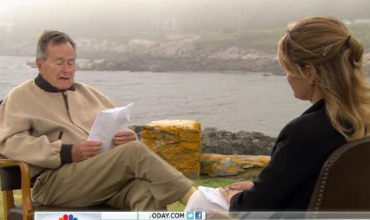 Tuesday marks the 88th birthday of former President George H.W. Bush. As part of NBC's Today Show celebration, special correspondent Jenna Bush-Hager sat down with her grandfather for an interview that touched upon his son, former President George W. Bush, the perils of aging, and thoughts on inevitable death.
Surprisingly chipper despite reports of severe health problems, Bush told his granddaughter that "Aging is all right. Better than the alternative: not being here."
In 1944, Bush's plane was shot down over the Pacific Ocean. He was the lone survivor of the crash, and so his granddaughter wondered, "Do you feel like you used that second shot at life to the best?"
"I'm sure I could have done a lot of things better," Bush replied. "It's been a fulfilling time of my life, a lot of experiences, including being President of the United States. Not too shabby."
"You did say you're not scared about death at all, but do you think about it?" Bush-Hager asked.
"Yeah, I do," Bush said. "Wonder what it's like."
When asked who he'd like to see first in heaven, Bush said, "If [my wife] Barbara pre-deceases me, I'd probably go with her. My mom, my father. Maybe Robin, our little girl that died."
The former president then tearfully shared a letter he wrote to his family, reflecting on aging and impending death:
As the summers finish out, and the seas get a little higher, winds a little colder, I'll be making some notes, writing it down lest I forget so I can add to the report on getting older. Who knows, maybe they will come out with a new drug that makes legs bend easier, joints hurt less, drives go farther, memory come roaring back and all fears about falling off fishing rafts go away. Remember the old song 'I'll be there ready when you are'? Well I'll be there ready when you are, because there's so much excitement ahead, so many grandkids to watch grow. If you need me, I'm here. Devotedly, Dad.
Check out the interview below, via NBC:

>> Follow Andrew Kirell (@AndrewKirell) on Twitter
Have a tip we should know? tips@mediaite.com