Former President Jimmy Carter Opens Up To CNN About Paula Deen: 'My Heart Goes Out To Her'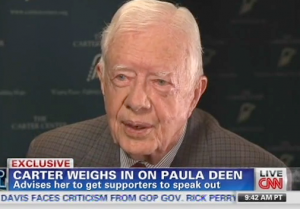 In a CNN interview today, former president Jimmy Carter offered a little Southern comfort to celebrity chef Paula Deen, who caused a bit of a media firestorm after revealing in a deposition she used the n-word. This led to the Food Network and multiple sponsors cutting their ties to Deen, even after a series of tearful apologies online and on The TODAY Show. Carter told Suzanne Malveaux that he feels sorry for Deen and that she has been doing a lot of important work in her community that has benefitted African-Americans.
RELATED: Donny Deutsch On Paula Deen: Can 'Good People' Say 'Wrong Thing' In Culture Where Words 'Stick Forever'?
Deen and Carter grew up in Georgia neighborhoods around the same time period, and Carter revealed that Deen had actually reached out to him for advice after this scandal over her racially insensitive language blew up.
"I advised her to let the dust settle and to make apologies and–she has some very beneficial human programs in Savannah, Georgia, where she lives, that benefit, almost exclusively, oppressed and poverty-stricken black people, African-American citizens in her own community. And I advised her to get some of those people who she's helping every day to speak out and show that she has changed in her relationship with African-American people, with minorities, in the last number of years."
Carter added that "my heart goes out to her," but also made it clear he's not condoning the hurtful word she used.
Watch the video below, courtesy of CNN:
—–
Follow Josh Feldman on Twitter: @feldmaniac
Have a tip we should know? tips@mediaite.com
Josh Feldman - Senior Editor