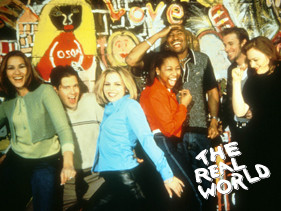 Remember The Real World: Boston? Like every other season of the show, it had its OMG moments – like when roomie Montana got accused of giving children alcohol! OMG! And now, thirteen years after it first aired, the show has produced yet another shocker: cast member Sean Duffy (the conservative Republican one thrown into the house to act as a foil to all that MTV liberalism) is set to run for Congress in Wisconsin, and has a good chance of winning.
The Washington Post reports that while Duffy had little chance of taking a seat in the House when he first decided to run against liberal Democrat David R. Obey in the upcoming midterm elections, circumstances have led to him becoming a strong contender – Obey announced last month that after 41 years as a Representative he will not run for reelection, opening the race to candidates like Duffy with less political power.
His opponent in the September Republican primary, Dan Mielke, is bringing up Duffy's TV past as much as possible to discourage voters from electing a Representative with "Hollywood" values. But Duffy has nabbed an endorsement from Sarah Palin, an asset that has worked in the past to get candidates through their primaries. That paired with the anti-incumbent vibe floating around the elections could be enough to secure him the seat.
Instead of emphasizing his role on The Real World, Duffy, currently a county district attorney, focuses instead on his life today. He and his wife (a cast member from The Real World: San Francisco who he met while filming an MTV all-star version of Road Rules) have six children together, and he is a self-described "pro-life, pro-traditional-marriage, pro-gun, pro-Second Amendment" champion lumberjack.
Duffy appeared in the early years of The Real World when things stayed relatively calm, compared to the booze-fed orgy of barely legal hotties the show has become recently. It will be interesting when some of the more scandalous characters decide on an run for public office. A few from the Las Vegas season come to mind.
Have a tip we should know? tips@mediaite.com