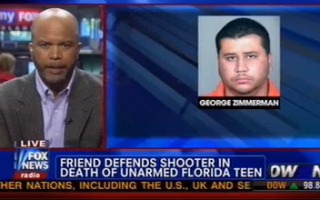 Longtime news anchor Joe Oliver, a close friend of Trayvon Martin shooter George Zimmerman for six years, appeared on Fox News Monday morning to offer a defense of his friend. Oliver, whose wife is also friends with Zimmerman's mother-in-law, spoke briefly to Zimmerman over the weekend.
"The biggest problem with all of this," said Oliver, "has been the information hasn't come out. Florida law enforcement has a history of providing a lot of information before a trial ever starts — Casey Anthony, my case in point, I use that as the example. But in this case, they have determined that it is better not to provide the information." Oliver guesses this is due to the Sanford Police Department's history with race relations.
RELATED: Trayvon Martin Shooter Is A 'Forensic Loan Review Analyst' And New Details On George Zimmerman
Oliver believes that Zimmerman had been doing the right thing in pursuing the teen the night of the shooting, taking issue with media characterizations of Zimmerman having "stalked" the young man, hinting that the public will soon discover that this is "far from the truth." He also noted that there is a "very real possibility" of Zimmerman's gun having gone off accidentally.
And while he agreed with many pundits that this cause has brought up racial issues that need to be addressed and talked about, Oliver felt that "at its core, it is not a racial case." He also felt the case had nothing to do with the state's "Stand Your Ground" law, saying that "in this case, once the evidence is presented, everyone will see that it wasn't an issue of 'Stand Your Ground,' it was an issue of, at some point, someone was going to die… and it happened to be Trayvon, tragically."
Have a look, via Fox News:
Editor's note: This post has been edited since its original posting – Jon Nicosia
Have a tip we should know? [email protected]