Former Romney Advisor Rick Grenell Says Susan Rice Craved U.N. 'Dinner Party Invites'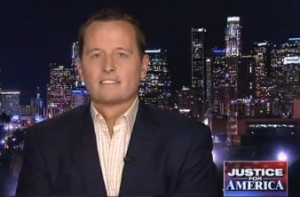 Throw another shrimp on the barbie that is the Republicans' completely illegitimate all-out assault on Ambassador Susan Rice's prospective nomination as Secretary of State, but for totally non-race or gender-based reasons. On Fox News' Justice With Judge Jeanine, former Mitt Romney* foreign policy advisor Richard Grenell (or Rick) pimped his list of "30 reasons Why Susan Rice Shouldn't Be Secretary Of State" (Grenell seems to think that an ambassador's job description consists entirely of speaking out against other countries) by telling Judge Jeanine Pirro that, among other things, Ambassador Rice didn't "speak up" as U.N. Ambassador because "all these ambassadors are looking to give you dinner party invites, and if you want to be the popular ambassador, then you can't speak out against countries."
Grenell told Judge Jeanine that he is "uniquely qualified" to pass judgment on Ambassador Rice, presumably because he has flacked for four previous Ambassadors to the United Nations, which is a bit like arguing you should umpire a Yankees game because you used to be a Red Sox batboy. That experience apparently led Grenell to the conclusion, despite other Republican attacks on Rice's "temperament" and "sharp elbows," that she was too easygoing at the U.N. because she wanted to go to dinner parties.
"You know what's interesting," Pirro said, "I have those 30 reasons in the article you wrote about why she shouldn't be secretary of state, and I think number five is interesting. She failed to speak out when Colonel Gaddafi's Libya was elected to the U.N. Human Rights Commission. Why even make friends? What's the point?"
"When you go there, there's all sorts of office groupings, the Africa group, the Arab group, all these ambassadors are looking to give you dinner party invites, and if you want to be the popular ambassador, then you can't speak out against countries." Grenell responded.
What was reason number six, "Dresses too pretty?"
One of Grenell's former flackees, mind you, was Bush-era recess appointment John Bolton, who couldn't get confirmed by the senate, and presided over the Bush administration's normalization of relations with Col. Gaddafi's Libya. Being Bolton's former spokesman qualifies you to judge a Movember contest, and not much else.
Here's the clip, from Fox News:
*Mitt Romney was the Republican nominee for president in 2012.
Follow Tommy Christopher (@TommyXtopher) on Twitter.
Have a tip we should know? tips@mediaite.com