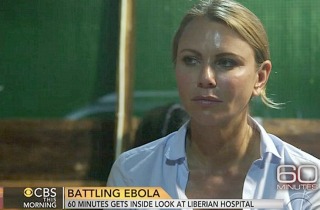 Earlier this week, we reported that 150 writers and professors sent a letter to CBS News criticizing 60 Minutes coverage of stories from the African continent. Former New York Times reporter Howard W. French led the charge against the newsmagazine for "misrepresentation" of the African people and a lack of their perspectives in pieces like the one Lara Logan did on the continent's horrific Ebola outbreak.
After we published a story on the letter, former U.S. State Department official Joseph Taylor wrote into Mediaite to express dismay at the criticism and share his perspective from his time assisting the 60 Minutes team, including Logan and Max McClellan, during a trip to Liberia.
Taylor served many years with the U.S. Information Agency (USIA) and the State Department, with overseas assignments to Nigeria, Egypt, Jordan, and Iraq as a press officer and/or cultural affairs officer. His letter in response to criticism of 60 Minutes is below. – Andrew Kirell, Mediate Editor-in-Chief
—
Dear Editors,
I am writing to you to provide another perspective on Lara Logan's work in Liberia and her 60 Minutes program on Ebola.
I consult on international media projects and documentaries. I was in Liberia in October 2014 to facilitate media teams covering the Ebola crisis. I assisted the 60 Minutes unit led by Lara Logan and Max McClellan and the press pool covering the visit of USUN Ambassador Samantha Power.
I am very disturbed by criticism of the 60 Minutes program on Ebola and the attacks on Lara Logan. The criticism that Lara's contacts and conversations were confined to Western participants is untrue. During the three days I spent with the 60 Minutes team, I saw Lara speak with at least one hundred Africans. She is without pretense and talked easily about the Ebola crisis with Liberian taxi drivers, hotel staff, gas station attendants, carpenters, chlorine sprayers, laborers, roadside vendors, police and military at checkpoints, auto mechanics, children and families. She talked with people who were busy and those who were despondent and idle. Over my decades in this business, I have never seen a journalist more willing and able than Lara to interact with a local population.
These conversations with Liberian prepared Lara for on-camera discussions with Liberian and Western doctors, nurses and support staff at the Ebola treatment and research facilities in Monrovia and Bong. It meant a lot to Liberians, as well as other Africans in Liberia, to know that Lara is also an African.
I will always remember Lara and epidemiologist Joseph Fair in conversation with the gravediggers way down the hill from the Bong Emergency Treatment Unit. This was a wide-ranging discussion in which the gravediggers leaned back on their shovels and asked Lara and Joseph all sorts of questions about the Ebola crisis, and answered the questions Lara and Joseph had for them. There is footage in the 60 Minutes program of the gravediggers but there was insufficient time for the dialogue to be screened.
The constraint of time – not Lara Logan- really is the issue. The tight editing process did not allow a full airing of Lara's diverse interactions with Liberians. This shortcoming prevails in TV news and it has nothing to do with Lara's professionalism, courage and compassion.
The criticism that Africa is insufficiently covered by the mainstream media is valid. That said, if there were more courageous journalists like Lara Logan, there would be more coverage of the truly dangerous places in the world. This is even more a reason that Lara Logan should be applauded by her colleagues for her courage and instincts, not falsely attacked.
Sincerely,
Joseph Taylor
Severna Park, Maryland
— —
Have a tip we should know? tips@mediaite.com