Former U.S. Amb. Trashes Obama on MSNBC for Putting 'U.S. Credibility' on Line Over Syria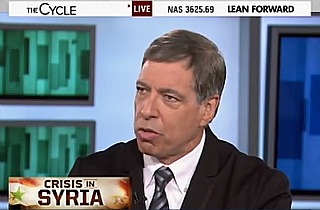 On Thursday's The Cycle, MSNBC guest and former Ambassador to Morocco under President Bill Clinton, Marc Ginsberg, admonished President Barack Obama for putting "the United States' credibility" on the line by declaring chemical weapons use in Syria represents a "red line." Ginsberg said that, while he is reticent to support military operations in Syria, the United States is now obligated to act because of the president's rhetorical commitment.

Krystal Ball asked Ginsberg if a U.S. military response to chemical weapons use in Syria was worse than doing nothing because the response may be so weak and noncommittal that it will provoke more state and non-state actors to attack the United States in the future.
"The fact is, international humanitarian law here was violated," Ginsberg replied.
"The country that is most watching the United States on this is not Syria but Iran. why? because the Israelis and the Americans and the Iranians know that if the United States says that a red line was crossed and we did nothing here, then how are the Iranians to judge if they can cross their own red line on developing a nuclear weapon?" Ginsberg asked. "And what are the Israelis going to do with respect to our credibility?"
RELATED: Conflict of Interest: Syria to Show Why War in 2013 No Longer Must-See TV
Steve Kornacki asked if there was a risk of a mission in Syria creeping and eventually drawing in American ground troops. Ginsberg emphatically expressed opposition to involving American ground troops in Syria and said that it is now probably beyond the West's ability to shape how the conflict in Syria will unfold. However, he said, America's credibility is on the line.
"The White House seems to be rightfully on a trajectory where we don't want to get involved in another war, but at the same time, as I just said, it's important for the president's credibility," Ginsberg remarked.
"If he had said nothing about a red line, we could be arguing until we're blue in the face whether or not [Bashar] Assad should have the United States respond," he concluded. "It was the President of the United States who put the credibility of the United States on the line. Not his credibility, the United States' credibility."
Watch the clip below via MSNBC:
—
> >Follow Noah Rothman (@NoahCRothman) on Twitter
Have a tip we should know? tips@mediaite.com