Former VP Walter Mondale Blames Obama Woes On Use Of 'Idiot Boards' [Teleprompters]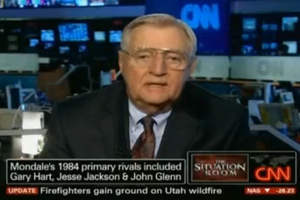 With all the Jimmy Carter references from conservatives regarding President Barack Obama, it's hard to keep track of just how similar the two are. Seeking the perspective of someone close enough to compare, CNN found the next best thing to President Carter himself: his vice president, Walter Mondale. Mondale told Wolf Blitzer today that it's those teleprompters– the "idiot boards"– that are doing President Obama in.
Stating definitively that he sees in President Obama the ability to become a two-term president, he challenged the way the president attempted to handle communication with voters, citing a palpable lack of empathy. "The American people," he explained, "have to feel that the president senses the suffering they're going through and wants to be a part of the solution." Blitzer made the Bill Clinton "feel your pain" analogy, and Mondale agreed that much more of that was necessary to keep the president's approval ratings up. The way President Obama is functioning now, he continued, indicated that connectivity was "something he needs to work on":
"Well, I've seen places when he's done it. The Milwaukee speech, I thought was — was terrific. I think some of these backyard events are terrific. But I — but I think he — he's very bright — as a matter of fact, brilliant. And I think he tends to — and he uses these idiot boards to read speeches in television and I think he loses the connection that he needs emotionally with American voters […]
Yes, I think that — you know, if you're looking at the teleprompter, you're here, you're here, you're here and you're — your audience is right there. And I think he needs to do more of that."
Sounds like Mondale is on board the Sarah Palin express towards hand scribbles, though no word how Mondale managed to deliver his impassioned campaign speeches without modern technology. "A fair point," replied Blitzer.
Mondale also discussed the Tea Party (he's not worried about them), racism towards the president (possible, but he doesn't see it), and, once again, the President's prospects for 2012.
The interview from tonight's Situation Room via CNN below:

Have a tip we should know? tips@mediaite.com