Former W.H. Advisor Walks Back Bain Support: Romney 'Reweaves History' When Says He Was Jobs Creator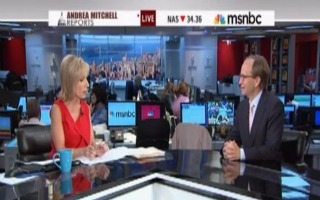 Former White House advisor Steven Rattner appeared on MSNBC with Andrea Mitchell on Wednesday, where he clarified remarks he made on Morning Joe last week in which he expressed reservations about the Obama campaign's attacks on Bain Capital. Rattner told Mitchell that while he believes private equity has a beneficial impact on the economy, Romney "reweaves" history by using his experience to suggest he is a jobs creator.

RELATED: Former Obama Adviser Rebuts Attack Ad On Romney: 'Bain Did Nothing To Be Embarrassed About'
Mitchell opened the segment by playing a clip of a Mitt Romney web ad which features Rattner's defense of Bain, as well as those of former Democratic Tennessee Rep. Harold Ford Jr. and Newark, New Jersey Mayor Cory Booker.
Rattner, who had recently published an opinion piece in the New York Times clarifying his position on Bain, told Mitchell that private equity should not be demonized but clarified that its goal is to make money for investors and not to create jobs.
"Private equity is a perfectly respectable part of our financial system," said Rattner. "It adds value to our economy. It does help a capitalistic system to function, but it is not a job creation goal." Rattner said he wanted to "lay that out clearly."
"Many people believe that what Mitt Romney has done – in claiming that he is a job creator and that that is his record from Bain Capital – is, as you point out, silly and contradictory," said Mitchell. "At the same time, was he that eager – so eager – to avoid being tagged as the Massachusetts governor?"
Rattner said that Romney wanted to avoid being linked to his tenure in the governor's mansion in Massachusetts because his state was "47th in job creation." Rattner went on to say that business experience is perfectly respectable, but "it's when he reweaves history, and tries to turn a perfectly respectable business career into an idea that he was the world's greatest jobs creator, that I think he is misleading people."
Watch the segment below via MSNBC:
Have a tip we should know? tips@mediaite.com