Fort Lee Mayor Lashes Out at Christie for 'Lowest, Most Venomous Form of Political Retaliation'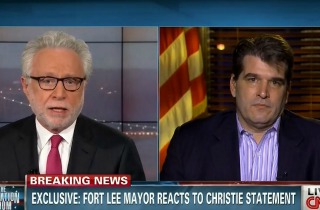 Fort Lee Mayor Mark Sokolich appeared on CNN Wednesday afternoon and tore into NJ Gov. Chris Christie. He severely scolded the Christie administration whose staffers were exposed on Wednesday acknowledging that two lanes of the George Washington Bridge being closed would be politically damaging for the mayor. He said that the allegations against the Christie administration could verge on the criminal and that he fears further retribution against his constituents when the news media stops covering the story.

"I'm actually rooting that the highest elected official in the state of New Jersey isn't involved in this, but I will tell you I'm beginning to question my judgment," Sokolich told CNN's Wolf Blitzer. He said he "dismissed" the idea that his non-endorsement of Christie in 2013 could have resulted in a punitive closure of two of the Hudson River's span's lanes.
RELATED: S.E. Cupp: If Christie Is Involved in 'Bridge-Gate,' He Should 'Resign Now'
Sokolich confirmed that Christie had not reached out to him directly since the revelations about his administration's involvement in the George Washington Bridge scandal broke. Blitzer opined that Christie "should probably call" Sokolich and express his thoughts on the controversy and his concern for the citizens of Fort Lee.
"It is the lowest, most venomous form of political retaliation," he continued. "We've now ensured that we're going to remain the butt of every political joke for the next 20 years on political misconduct."
Blitzer asked Sokolich why the Christie campaign expected a Democratic mayor to endorse a Republican. "I don't recall a specific request to endorse," Sokolich said. "But, you know, the events that led up to all of this I guess you can interpret to be somehow attracting me to endorse."
"When the story doesn't garner any more attention, we're nervous about retribution now knowing what we know," Sokolich added. "You cannot close down the busiest bridge in the world for political retribution. It's not something that's possible. You have intentionally put people in harm's way."
The mayor concluded by indicating that legal charges which were "more than civil" could be in the offing.
Watch the clip below, via CNN:
[Photo via screen grab]
— —
> >Follow Noah Rothman (@NoahCRothman) on Twitter
Have a tip we should know? tips@mediaite.com