Four-Star General Smacks Down GOP Congressman Who Attempts To Walk Out During Testimony
4-Star General Smacks Down GOP Congressman Who Attempts To Walk Out During Testimony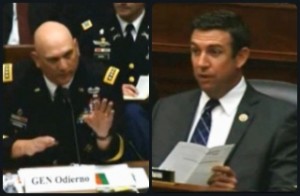 House hearings are not exactly known for their fiery outbreaks. But last week, boy did it sure get hot up in there.
In a rare show of verbal intensity, Army Chief of Staff Gen. Raymond Odierno smacked down Congressman Duncan Hunter (R-CA) when the politician attempted to walk out of the testimony after speaking his mind about an Army program he finds problematic.
Testifying before the House Armed Services Committee were Gen. Odierno and Army Secretary John McHugh. Hunter, a major in the Marine Corps Reserve whose constituency depends largely on the Navy, was grilling the two men on the Army's Distributed Common Ground System (DCGS).
Hunter had alleged that the two leaders had not properly responded to his office's complaints related to the program. Without going into all the inside-baseball details, the DCGS is a cloud-computing network established as a method to link intelligence sources to ground soldiers.
After he scolded McHugh and Odierno for some time, the congressman thought he could then find the nearest exit without allowing the military men to respond directly to his accusations.
While getting out out of his chair and motioning to leave the room, a baffled McHugh asked of Hunter: "May we respond? I think I heard a question. I don't want to respond if the gentleman's going to leave. Would you care to hear a brief response?"
The congressman begrudgingly sat back down and told the pair that "we've been talking about this for about a year-and-a-half," so he needn't hear their response. This remark sent Gen. Odierno over the edge.
"First off, I object to this," the general interrupted. "I'm tired of somebody telling me I don't care about our soldiers, that we don't respond." He then berated Hunter for trying to use "anecdotal evidence" to insult the Army.
"You have a very powerful personality," Rep. Hunter fired back, "but that doesn't refute the facts that you have gaps in the capability."
An increasingly irritated Odierno then tore into Hunter, claiming, "We have more capability today in intelligence than we've ever had."
The congressman later interrupted Odierno to say: "If you don't let me say anything then we can't have a conversation."
"Well, you weren't gonna let us say anything," the general replied.
"Well, you're right," the congressman admitted. "But I have that prerogative when I'm sitting up here."
"Well, I have a prerogative, too, and that's to answer a question or an accusation when it's made," Odierno concluded.
Watch the incident below:
[h/t
Upworthy
]
— —
>> Follow Andrew Kirell (@AndrewKirell) on Twitter
Have a tip we should know? tips@mediaite.com