Fox's Tantaros: Good Thing Media's Ignoring Midterms, Then They Can't Akin-ize GOP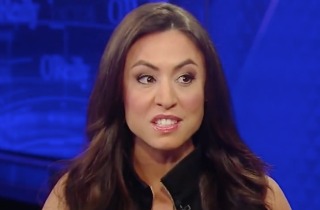 A new study by the Media Research Center this week found that the network nightly newscasts are largely (or in the case of ABC, entirely) ignoring the midterms for the past few months. Bill O'Reilly picked up on this tonight and said it's very easy to imagine the broadcast news network choosing to help the Democrats when things are bad for them, while happily focusing on the Republicans when things are bad for them.
James Carville didn't outright agree with O'Reilly, but conceded it was possible. Andrea Tantaros took the surprising angle of defending the media… sort of. She said back in 2006, when the media was all over the midterms, it was in the middle of that infamous Mark Foley page scandal, so the press was covering the salaciousness of the story.
She went on to say that she's "actually relieved" the media isn't covering the midterms. Why? Because if they did, they would have had more opportunities to brand the GOP as "women-hating," and so she's actually glad their covering straight news instead of trying to Akin-ize the Republican Party (referring to Todd Akin and his infamous comment about "legitimate rape" and how the media fixated on that for a LONG time).
Carville said that networks are more interested in making money then promoting a side, and that might explain it to some degree, but O'Reilly said argued it can easily be both.
Watch the segment here, via Fox News:
[image via screengrab]
— —
Follow Josh Feldman on Twitter: @feldmaniac
Have a tip we should know? tips@mediaite.com
Josh Feldman - Senior Editor