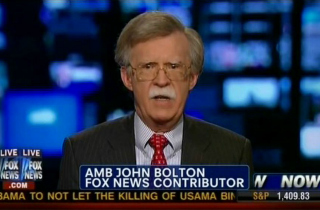 Conflict of interest is a big no-no in journalism. It's something we try to avoid. Whenever a journalist or commentator has any personal ties — financial or otherwise — to an entity that could corrupt their motivations, it's best to either remove themselves or consistently disclose those ties so as not to misinform the audience.
Progressive group Media Matters for America (MMfA) alleges that four of Fox News' contributors double as advisers or members of the Romney campaign. MMfA claims that such ties are not disclosed when the particular guests discuss Romney or the election.
MMfA identifies former U.N. Ambassador John Bolton as one of those contributors with undisclosed connections to the Romney campaign. Though he often appears on the network to decry President Obama's foreign policy record and praise Romney's, Fox does not identify him during every appearance as one of Romney's foreign policy advisers and campaign surrogates.
Former Labor Secretary Elaine Chao was also identified by MMfA as a Fox regular with undisclosed connections to the Romney campaign. Chao had appeared on the network and criticized Obama's jobs policy without disclosing her role as the chairwoman of Asian Americans & Pacific Islanders for Romney. However, in recent weeks, several Fox hosts have made it a point to mention Chao's Romney connections on-air while introducing her. We reached out to Fox and they replied that Chao is, in fact, not a Fox News contributor.
MMfA also alleges that contributors Walid Phares and Pete Snyder have not been properly identified for their connections to the Romney campaign. Phares is a foreign policy adviser to Romney; Snyder is a campaign surrogate. MMfA alleges that neither's campaign connections are repeatedly disclosed during each relevant appearance.
Of course, it should be noted that Media Matters' primary focus is on Fox News, and so they did not report on whether Obama or Romney advisers have appeared on other networks — or whether their contributors and/or hosts have appeared in a potential conflict situation — without full disclosure.
In fact, conflict of interest issues are endemic in the cable news industry, and the occasional failure to disclose is by no means exclusive to Fox. In 2008, the New York Times ran a piece exposing how all the networks failed to disclose their military analysts' ties to military contractors with vested interest in the very war policies they appeared on-air to discuss.
Earlier this year, Mediaite reported that CNN analyst David Gergen disclosed his financial ties to Bain Capital after routinely speaking about and praising the company while on CNN, without ever noting this beneficial relationship.
And Mediaite reported on CNN's Howard Kurtz calling out MSNBC for allowing Rev. Al Sharpton to spend a great deal of time covering the Trayvon Martin murder case on his PoliticsNation show while also participating in local rallies demanding the arrest of alleged gunman George Zimmermann — rallies that MSNBC also happened to cover.
During the BP oil spill disaster of 2010, CNN got into hot water when it was revealed that contributors Alex Castellanos and Hilary Rosen had financial ties to the oil company. CNN opted to remove the contributors from any discussions involving the oil spill.
Let us know if you see other examples of possible conflicts or any other network no-no's, at tips@mediaite.com.
[h/t TVNewser]
— —
>> Follow Andrew Kirell (@AndrewKirell) on Twitter
Have a tip we should know? tips@mediaite.com