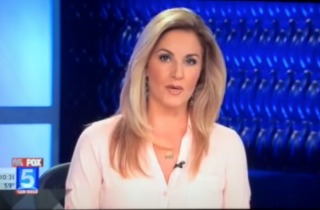 A local news station in San Diego apologized for using a picture of President Barack Obama while reporting on a rape suspect.
"Friday night at 10 o'clock we inadvertently used a photo of President Obama while reporting on a story about charges being dropped in a local case," KSWB Fox 5 anchor Misha DiBono told viewers. "We regret the error."
On Friday, while reading a 30-second voiceover about charges being dropped for a 20-year-old rape suspect, a graphic over the shoulder of anchor Kathleen Bade showed a picture of President Obama with "NO CHARGES" written below it. The shot lasted for about five seconds.
A KSWB assignment editor had originally said the station would not apologize because they usually do not acknowledge "small things like that." He added that nobody called during the broadcast to complain.
KSWB also posted the following apology on their website:
Last Friday night during KSWB-TV's 10 p.m. newscast, we inadvertently displayed a photo of President Obama while reporting a local story on the police dropping charges in an ongoing criminal case. The mistake was unintentional. On Sunday's 5 p.m. and 10 p.m. newscasts we delivered an on-air apology for the mistake. As we said then, we regret the error and apologize to our viewers for making it.
The station is a Fox-affiliated network owned by the Tribune Broadcasting subsidiary of the Tribune Media Company.
Watch the apology below, via KSWB:
And you can watch the original error here, also via KSWB:
[h/t TPM]
[Image via KSWB / screengrab]
— —
>>Follow Andrew Desiderio (@forza_desiderio) on Twitter
Have a tip we should know? tips@mediaite.com