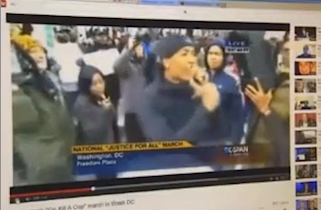 Three times over the last 24 hours, Baltimore Fox affiliate WBFF has played a misleadingly edited clip from last week's National "Justice for All" March in Washington, D.C. to make it sound like protesters were calling on people to "kill a cop."
"At this rally in Washington, D.C. participants chanted, 'We won't stop, we can't stop, so kill a cop,'" WBFF's Melinda Roeder said during a Sunday night report about the murder of two police officers in New York City, before playing a truncated version of a protest video from C-SPAN. "The anti-police sentiment reached a turning point this weekend in New York when two officers were gunned down in cold blood."
Watch the edited version below, via WBFF:
As you can see from the video played on-screen, the source of the clip was a YouTube video posted last week with the title, "Sharpton's 'Go Kill A Cop' march in Wash DC." But when you watch past the point where WBFF cut off, you can hear the full chant had a different message:
We won't stop.
We can't stop.
'Til killer cops.
Are in cell blocks.
And then watch the original, unedited video below, via C-SPAN:
Rather than calling for the murder of police officers, the protesters were simply calling for justice in the killings of Michael Brown, Eric Garner and others. But that message was either overlooked by the Baltimore station or deliberately obscured.
And it was not a mistake that was caught after the initial airing Sunday night. Twice Monday morning, the station played the same bit of edited tape, tying it to the police murders in New York.
The woman leading the chant in the video was identified by Gawker as Tawanda Jones, whose brother Tyrone West was killed by Baltimore City Police in 2013. Jones posted this response to WBFF on Facebook: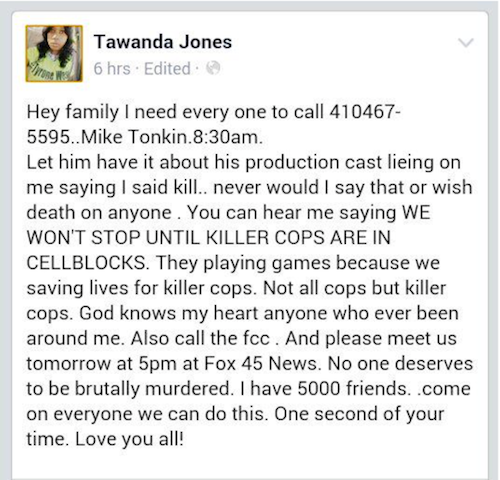 [Photo via screengrab]
— —
>> Follow Matt Wilstein (@TheMattWilstein) on Twitter
Have a tip we should know? tips@mediaite.com