Fox Airs Misleading Report on 'Knockout Game' Hate Crime Against Elderly Black Man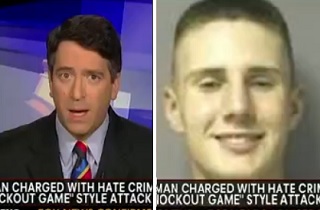 Last week, the Department of Justice filed hate crimes charges against 27-year-old white male Conrad Alvin Barrett for allegedly assaulting a 79-year-old black man, knocking him to the ground and fracturing his jaw in two places. Police recovered video from the suspect in which he says he was looking for a black victim, in order to test media reaction to the attack. Over the weekend, Fox News' James Rosen filed a report on the incident that contained several misleading, or outright false, claims and significant factual omissions.
Cable news outlets have come under intense criticism over their coverage of the so-called "Knockout Game," which some critics say is being overhyped, and others claim is ignoring a racial aspect to the crimes. The suspect in this case attempted to settle that debate, according to the Justice Department, by seeing "if I were to hit a black person, would this be nationally televised?"
"At least 25 times in the last two years, cowardly urban thugs have snuck up on innocent victims and knocked them unconscious with a single blow and fled the scene," Rosen said, adding that this attack is the first to have been "charged by federal, and not local, authorities, and for the first time under a hate crime statute."
Rosen is correct that this is the first of these recent attacks to be charged federally, but not the first to be charged under a hate crimes statute. It's possible, though, that Rosen meant to extend the "federal" distinction to the statute.
He added that Barrett "made several videos in the cell phone where he identified himself and used a racial slur on African-Americans, and stated his intent to victimize a black man in this fashion in order to receive national media attention."
Rosen failed to disclose, however, that the motive was not simply to gain media attention, but to test media reaction to a white attacker of a black victim. The DOJ quotes Barrett in one of those videos as saying "the plan is to see if I were to hit a black person, would this be nationally televised?"
In an O'Reilly Factor segment just days before this attack, fill-in host Laura Ingraham similarly wondered to a panelist, "If this were overwhelmingly white teens, and they were going around all these cities across the United States, and they were cold-cocking elderly black people, would you be coming on The O'Reilly Factor and saying 'I hate to generalize about quote bad behavior?'"
Rosen then discussed the hate crimes aspect of these crimes, displaying a graphic which read "Knockout Game: A Hate Crime?"
That graphic presents a misleading premise, as Barrett's attack was charged as a hate crime not because it was a "knockout game" attack, but because the suspect explicitly said that he sought his victim on the basis of race. Additionally, one of the videos that Rosen presents as a "Knockout Game" attack, according to police, was not related to the "Knockout Game."
Rosen reinforced that premise by noting that, "In many of the past cases, the perpetrators were black, and the victims were white, and often, in a series of recent attacks in New York City, Jewish. Many analysts believe those cases possessed clear intent on the part of the perpetrators to single out on the basis of race and religion, but hate crimes charges were never pursued in the previous cases."
The last part of that statement, that "hate crimes charges were never pursued in the previous cases," is completely false, an error compounded by the fact that Rosen specifically referenced the group of attacks that belie his claim. A November attack on a Jewish man, in New York City, did, in fact, result in a hate crimes charge against 28 year-old Amrit Marajh.
Additionally, Rosen failed to note that in many of the cases he referenced, hate crimes charges haven't been pursued because the suspects are still at large, but police are investigating them as hate crimes and/or "Knockout Game" attacks. For example, the NYPD is investigating, as a hate crime, an attack on 22 year-old Taj Patterson, a gay black man. Rosen's reporting gives the impression that attacks by black suspects on white victims are being treated differently, but the facts he omits, or gets wrong, paint a different picture.
Here's the clip, from Fox News:
Have a tip we should know? tips@mediaite.com