Fox Analyst: Obama Elevated Susan Rice To Position Where She 'Doesn't Have To Testify' On Benghazi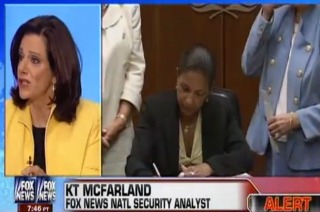 On Wednesday, Kathleen Troia "K.T." McFarland, a former national security aide to Presidents Richard Nixon, Gerald Ford, and Ronald Reagan, claimed that United Nations Ambassador Susan Rice is being promoted to National Security Advisor in order to shield her from congressional scrutiny over her role in the response to the Benghazi attacks.

RELATED: Fox Hosts Question 'Curious Timing' Of Susan Rice Replacing National Security Adviser: She 'Misled' Nation
"I figure that was the payback for Benghazi," McFarland said of Rice's promotion to NSA on Wednesday. "The fact that she carried the administration's water – carried it very badly, I might say – but carried it."
"First of all, she'll be a disaster," she continued. McFarland said that the NSA is one of the most important positions in the executive branch and should not be a position used to reward political allies.
"Obviously, they have a close, personal relationship," noted Fox News Channel anchor Martha MacCallum. "You've stood by me all these years and this is a position where you'll be protected, as you say. You won't have to answer questions anymore."
McFarland agreed. She said that Rice, "conveniently," no longer has to testify before Congress relating to what she knew about Benghazi and can invoke executive privilege if asked to testify.
In a post on Fox News.com, McFarland repeated her theory. "By appointing Rice to NSA job means she can invoke executive privilege and doesn't have to testify on Capitol Hill," she wrote. "And she will certainly be a loyal soldier if she is now sitting 40 yards from the Oval Office."
Hmmm….is Obama now taking Rice out of the running to be a key witness in the inevitable Benghazi hearings? Once she's on the White House staff, she can hide behind the veil of executive privilege.
Watch the clip below via Fox News Channel:
> >Follow Noah Rothman (@NoahCRothman) on Twitter
Have a tip we should know? tips@mediaite.com