Fox Analyst Talks Al Jazeera America: 'Most Arabs' Supported bin Laden 'Killing Americans'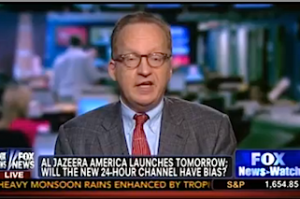 24-hour cable news is getting its newest entry when Al Jazeera America launches tomorrow and this afternoon the highest-rated cable news network previewed their new competition with a panel that featured Fox analyst Jim Pinkerton and commentator Alan Colmes. At one point during the discussion, Pinkerton questioned how Americans will embrace the "Arab news channel" given the fact that "many if not most Arabs probably support what bin Laden was trying to do in terms of killing Americans."
Pinkerton predicted that the channel's financial backing from the Qatar government will allow it to care less about ratings than its rival cable news networks do. "I suspect it will be around for a long time even if nobody watches," he said.
Colmes said it will all come down to the free market. "People will either watch it or not," he said. "If they can fund it forever because they want a presence in America, that's fine. If we're afraid what they might say, that's too bad, but let the marketplace decide and let free speech reign."
But the real kicker came after host Jon Scott suggested that most American viewers still think of Al Jazeera as a "mouthpiece for Osama bin Laden" after 9/11.
"Well, I think there is something to that," Pinkerton said. "But look, they're an Arab news channel and let's face it, many if not most Arabs probably support what bin Laden was trying to do in terms of killing Americans and so on," he continued, citing Pew polls on the subject. He did "give them credit on stories like Egypt and Syria" and for spending "real money to put real reporters into hot zones."
Colmes opted not to challenge Pinkerton's suggestion, but rather said the best course of action will be to wait and see how their domestic coverage pans out. "Wouldn't it be healthy an helpful for us to see in fact what another take on domestic news might be?" Colmes asked. "I think it is educational and informative to understand maybe a different point of view."
Watch video below, via Fox News:
(h/t ThinkProgress) | [photo via screengrab]
—
>> Follow Matt Wilstein (@TheMattWilstein) on Twitter
Have a tip we should know? tips@mediaite.com