Fox Analyst To Megyn Kelly: 'Scare Olympics' Around Sequester Reason Why Obama Tanking In The Polls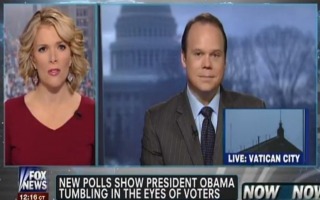 On Tuesday, Fox News Channel's Megyn Kelly dug into President Barack Obama's falling job approval rating in recent public polling. In a conversation about Obama's lackluster approval rating with a Fox News analyst, Kelly asked why Obama's numbers are dropping. The analyst replied that Obama's affinity for making the government "dysfunctional" in order to compel the GOP to capitulate has had a deleterious effect on his support. Furthermore, the analyst asserted, Obama's "stimulus scare Olympics" around the sequester cuts hurt his credibility.

RELATED: The Five Hosts Mock Obama's Sequester Scare Tactics: 'Carnivorous Cats Will Force Humans Underground'
Kelly noted that a recent McClatchy/Marist poll shows the president is underwater among registered voters nationwide, with 45 percent approving of his performance in office and 48 percent disapproving. This is the lowest McClatchy/Marist has registered Obama's approval in more than one year.
"What is this tied to?" Kelly asked Fox News Channel's digital politics editor Chris Stirewalt.
"We have a government that can't function," Stirewalt replied pointedly. "The president had a plan that was audacious, which was – he was just going to jam all the way through until the midterm elections next year, and that he would just do scorched earth on the Republicans."
"Well, as he has started down that path, what he has found out is that people don't have much patience for that," Stirewalt continued. "The American people are tired, tired, tired of all of this politicking and gamesmanship."
Kelly said that this and other polls show that Obama's disapproval rating is down sharply since its post-reelection highs. Furthermore, Obama's personal popularity is down – an area in which used to be his strongest asset among voters.
"The stimulus scare Olympics did not probably do many great favors for the public's esteem for the president," Stirewalt observed. "And especially when they basically had to say 'never mind.'" Stirewalt said that he thought the president's credibility suffered as a result of the anti-sequester campaign.
Kelly then added that, in spite of their low approval ratings, Congressional Republicans narrowly edge out the president on who the public believes would be better to deal with the nation's budget deficit.
Stirewalt noted that the president's outreach to Congressional Republicans is due in part to his recognition that the public still trust Republicans on issues relating to the federal budget and debt. "If he has to spend the next 18 months fighting tooth and nail, inch by inch, with Republicans over spending, taxes, and deficits, he's on unfriendly turf," Stirewalt said.
Finally, Kelly asked about a Pew Research Center survey which found that only 26 percent of adults trust the government compared to 73 percent who do not. Stirewalt said this is a direct result of the president's style of governance, to pressure Republicans to abandon their opposition to his programs by making the government "dysfunctional."
Watch the report below via Fox News Channel:
> >Follow Noah Rothman (@NoahCRothman) on Twitter
Have a tip we should know? [email protected]