Fox Anchor Bill Hemmer Calls On Republicans To Boycott White House Egg Roll, Karl Rove Disagrees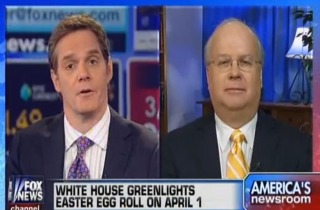 On Friday, Fox News Channel anchor Bill Hemmer dug into the unfolding scandal surrounding the White House's decision to move forward with the annual Easter Egg Roll. When Karl Rove dismissed the controversy over the annual White House event, Hemmer insisted that Congressional Republicans take a harder line on the decision to go ahead with the Egg Roll while a moratorium on White House tours remains in place. The Fox anchor advised Republicans to boycott the White House Egg Roll this year in protest.

RELATED: SequEaster: White House Says Easter Egg Roll May Be Canceled Due To Possible Gov't Shutdown
"Is it a good decision to go forward with this, knowing that school kids in California have been shut out, et cetera, et cetera?" Hemmer asked Rove.
"It was a bad decision to cancel the White House tours," Rove agreed. However, he said that it would be worse for the Obama administration to cancel the "historic" Easter Egg Roll. Rove noted that tens of thousands of people participate in the event and it is partially funded by private donors.
"I think the optics are terrible, Karl," Hemmer replied. "I think the picture looks awful, because the public's shut out but the politicians of Washington – they can bring four family members."
Rove defended the Egg Roll, saying that most of the participants are the young relatives of politicians or staffers.
"The tours supported those people, too," Insisted Hemmer.
"Don't ask me to defend the incredibly stupid decision of the Obama White House," Rove replied. "This was part of their offense to show how bad the sequester would be, and it blew up in their face."
"I tell you what Republicans should do," Hemmer began, "they should boycott the Easter Egg Roll on the first of April."
"As silly as that may sound, they say, 'we're not going to go,'" he added.
After a moment of contemplation, Rove replied that a Congressional oversight hearing into the White House's implementation of the budget cuts in the sequester may be a better option.
Watch the clip below via Fox News Channel:
> >Follow Noah Rothman (@NoahCRothman) on Twitter
Have a tip we should know? [email protected]