Fox Anchor Cites 'Bermuda Triangle' as Possible Explanation for Missing Plane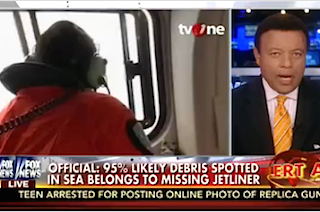 Back in March, when CNN's Don Lemon asked if it was "preposterous" to suggest that Malaysia Airlines Flight 370 may have disappeared into a black hole, it was undoubtedly one of the most cringe-worthy TV news moments of the year. But this 3 a.m. comment from the lesser-known Fox News anchor Kelly Wright about the newly-missing AirAsia plane isn't far behind.
"You know what is disturbing to a lot of people who live in that area, they call this the Devil's Sea, the Dragon's triangle, somewhat like our Bermuda Triangle except this would be the Pacific Triangle, what do you make of that?" Wright asked aviation security analyst Michael Boyd early Tuesday morning after debris from the plane was possibly located. "There have been disappearances there before and we know the Malaysia flight, we don't know where that is right now, and now this one goes down. Does that cause fear and alarm in people who fly there?"
"I don't think so," Boyd replied, noting that every day planes fly through that area without incident. He added that the so-called Bermuda Triangle is also a regularly-trafficked area that planes can fly through and emerge unscathed.
Unlike Malaysia Airlines Flight 370, Boyd said, "Here we have a little more of a, quote, normal, unquote event where something happened to the airplane and we will know in a few hours or in a couple of days what really happened. But I wouldn't put too much into this being something like an area like the Bermuda Triangle where airplanes come in and don't come out, that's just kind of silly."
Realizing he may have made a Lemon-esque comment, Wright said, "You see these things and you go into it and you just want to add to the fact that this is something that they've talked about before, and that's why I eluded to that to bring it up. Now, let's get back to the facts that we know…"
Watch video below, via Fox News:
[Photo via screengrab]
— —
>> Follow Matt Wilstein (@TheMattWilstein) on Twitter
Have a tip we should know? [email protected]