Fox Anchor Cuts Interview Short, Scolds RNC And DNC Guests After They Get Into Interruption Fest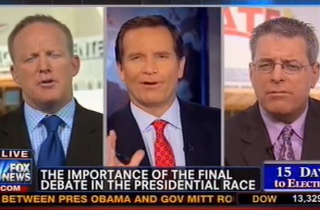 After a debate between Republican and Democratic campaign representatives was reduced to constant interruptions and shouting, Fox News anchor Jon Scott cut short the segment and scolded his guests for not heeding his warning not to interrupt one another.
RNC communications director Sean Spicer and DNC spokesman Brad Woodhouse were supposed to be debating how tonight's foreign policy debate will play out. From the very start, Scott warned the two guests to "try not to interrupt," but alas, his warning was not heeded.
The heated crosstalk began as soon as Woodhouse accused Republicans of trying to "politicize" the September 11th attacks on the U.S. consulate in Benghazi, Libya. Spicer attempted to defend his party and his nominee, as he steamrolled over Scott's attempt to corral the segment and prevent the fight from getting worse.
Eventually Woodhouse leveled a personal attack at Spicer, saying: "I'm really embarrassed for someone like you, who served our country overseas, that you are party to this politicization of this issue in Libya."
From there on out, the segment devolved further and further into indecipherable crosstalk… until Scott decided he'd had enough and opted to end the segment.
"We are reaching that point that I didn't want it to get," he said to his guests as they continued to shout over one another. "Nobody is hearing anything. Gentlemen, we'll have to leave the debate there."
"I apologize, I hoped that our viewers got something out of that last segment there," he added, seemingly embarrassed by the lack of actual conversation, "but we're going to have to say goodbye."
Watch below, via Fox News:
— —
>> Follow Andrew Kirell (@AndrewKirell) on Twitter
Have a tip we should know? [email protected]