Fox Anchor Grills Atheist Activist Over Opposing Holocaust Memorial Because Of 'Star Of David'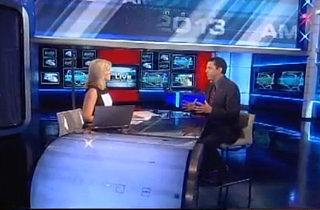 On Fox this afternoon, fill-in anchor Shannon Bream grilled the leader of an atheist group over their opposition to a Ohio-based Holocaust memorial that features only the Jewish "Star of David" symbol, excluding the images of other groups of people victimized by the Nazi regime.
"I don't like the idea of the Star of David only on this memorial," American Atheists president David Silverman told Bream. "Forty percent of the people killed in the Holocaust were not Jewish, but the only insignia on this memorial is a Jewish star and that is on public land. So that is not only immoral in that it discounts the forty percent who died who were not Jewish, but it's also illegal as it's an obvious endorsement of religion over non-religion, Judaism over everyone else."
Bream pushed back that "those symbols can mean a lot of things to a lot of people," noting that the Supreme Court ruled as such in previous cases. The inclusion of a religious symbol, she said, doesn't necessarily mean exclusion of other types of people.
"If you've got only one symbol, and it's on the top of a building, and it makes the building look like a Jewish synagogue," Silverman said, "it is a clear endorsement of one religion over everyone else." He noted that gay people, the handicapped, gypsies, and other minorities were also murdered en masse during the Holocaust, and yet the building's facade "completely ignores them."
Bream openly took issue with Silverman's assertion that the memorial would be "illegal," adding that the proposed inscription openly mentions all types of people murdered during the Holocaust.
"It's important that we don't give the Holocaust just to the Jews," Silverman said.
The Fox anchor shot back that the Nazi regime's "Final Solution" was mostly drawn up as a way to exterminate the Jewish people, and all other minorities were persecuted because they were likened to the "primary target."
"This was about eugenics," Silverman responded.
Ultimately, the atheist activist concluded, the Ohio state government should have gone with one of their original proposals that did not explicitly include the Star of David.
Watch below, via Fox:

— —
>> Follow Andrew Kirell (@AndrewKirell) on Twitter
Have a tip we should know? [email protected]