Fox and Friends: Will Withdrawal From Iraq Mean 'American Lives Will Be Wasted?'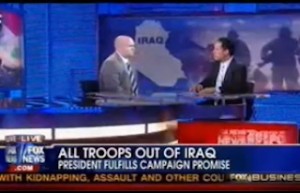 Last week, President Obama announced that the war in Iraq will be over in the next 70 days, and that most of the U.S. troops will be coming home, with approximately 150 staying behind to serve duties such as protecting the U.S. embassy. The announcement was met with the predictably mixed results that come with today's bitterly partisan landscape: the left saw the news in a less than celebratory way, while this morning, Fox and Friends had on Kiran Lawler as a guest, who described the withdrawal as a "diplomatic failure."
The U.S. has had a significant military presence in Iraq since we invaded that country in March of 2003 in search of weapons of mass destruction. The weapons were never found, though Saddam Hussein was deposed (and eventually killed), leaving our troops to assist in the challenging (nearly impossible?) task of building a nation out of competing sects and tribes.
Many generations seem to believe that the news that "war is over" should be delivered with black and white ticker-tape, and with raised arms of victory. Others see the operation in Iraq in much more shades of grey. In fact, critics of the Iraq war would claim that declaring victory in that operation would be disingenuous. Some diplomatic experts somewhere are likely arguing that a "spiking of the football" with regard to the operation in Iraq would incite more hatred by extremists towards the nation they clearly see as "occupiers."
And there we have it. The administration appears to be addressing the black and white extremism with a nuanced and grey-shaded approach. Which is predictably met by detractors as not nearly a clear enough statement.
Watch the clip below, courtesy of Fox News:
Have a tip we should know? tips@mediaite.com