Fox and Friends Asks Jerry Springer To Weigh In On Obama 'Losing The Jewish Vote'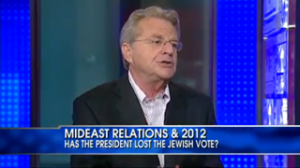 Probably not, says provocateur and American Jew, Jerry Springer. "Look, come on, Perry," he begged on a Fox and Friends this morning, where he joined Gretchen Carlson, Big Hollywood's Larry O'Connor and country music singer Billy Dean on a "Special Political Panel" to discuss the much coveted "Jewish vote." Springer is confident that President Obama's handling of the Israel-Palestine situation will not cause him the Jewish vote in the 2012 race, and that Bob Turner's unprecedented Republican win in New York's overwhelmingly Jewish 9th district is not representative of the broader, Jewish American community. "Overall, American Jews tend to be more progressive, more liberal, so [Obama] will probably still get the vote," he predicts.
Springer insists that the Democrats loss in the the much ballyhooed 9th District race does not bode for President Obama. "The 9th district is a little bit different in terms of other Jewish communities in America," Springer said, pointing out the high percent of orthodox voters in the community that are closely aligned with Israel's conservative Likud party.
Mostly, Springer's worried about the alternative. "Look, come on, Perry," he argues. "We can argue whether he did a good job in Texas, but he's in charge of our foreign policy?" O'Connor — who worked on Broadway and hence fancies himself an expert on all things jewish and gay, he says — suggests that this argument doesn't necessarily lend much Jewish confidence to the Democratic party, and he likens the Jewish voters to the woman in a Springer joke wherein she keeps returning to a man who treats her poorly.
Eitherway, it sounds like Obama's got Springer's jewish vote: "I am very happy as an American Jew, and I have family in Israel, I am very happy to support Obama," he said.
Watch the "Special Panel" duke it out below:
Have a tip we should know? tips@mediaite.com