Fox and Friends 'Clarifies' Its False Reporting About 'Hiroshima Apology' WikiLeaks Cable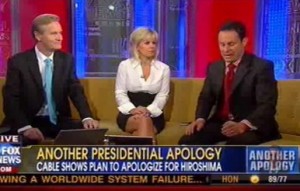 Thursday, we reported on a Fox and Friends story that contained enough whole cloth to start its own garment district. Among other things, Fox and Friends falsely reported that a WikiLeaks diplomatic cable showed that President Obama proposed a visit to Hiroshima to apologize for the WWII atomic bombing of that city, and of Nagasaki. We contacted Fox News about the inaccuracies in the story, and they promised us that they would "address" the story Friday morning.
In their initial reporting, Fox's morning trio combined to deliver such false claims, about the leaked diplomatic cable, as:
"President Obama wanted to apologize" for Hiroshima.
The White House had a great idea. Let's apologize for dropping that bomb on Hiroshima.
A Japanese official "stopped it."
Japanese Vice Foreign Minister Mitoji Yabunaka said, "We don't want any apology for that."
Japanese Vice Foreign Minister Mitoji Yabunaka said, "We sort of need to keep the nuclear threat alive."
Japanese Vice Foreign Minister Mitoji Yabunaka contacted the White House and said "Let's not apologize for Hiroshima."
In fact, the leaked cable didn't say any of that, and was actually quite clear as to how the subject came up. Vice Foreign Minister Yabunaka was already discussing proliferation issues (he favored "something like dismantling all plutonium-based programs at the outset in exchange for normalization of relations" with North Korea), and he brought up the possibility that the public, particularly anti-nuclear activists, might expect a presidential visit to Hiroshima, and maybe even an apology. Far from saying "We don't want an apology for that," Mr. Yabunaka said that such a visit would be "premature."
Rather than issue a correction, though, co-host Steve Doocy said, Friday morning, that "There was never a plan for President Obama to apologize to Japan," adding, "we should have been clearer about that, and we're sorry for the confusion."
That's a bit like The Chicago Tribune saying, "We should have been clearer about Dewey not defeating Truman."
Still, they did manage to work the words "we're sorry" into it, which has to make you wonder if that apology was President Obama's idea. Let me be absolutely clear: it was not.
Here's the clip. from Fox and Friends:

Have a tip we should know? tips@mediaite.com