Fox and Friends Falsely Reports On Hiroshima WikiLeaks Cable; Claims Apology Was White House Idea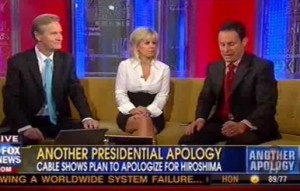 On Thursday morning's Fox and Friends, the titular chums revealed a doozy about the WikiLeaks cable that's getting a lot of attention now. The cable mentions a Japanese official calling an apology for the bombing of Hiroshima a "non-starter," but contains nary a mention that an apology was ever offered, by President Obama or anyone else in his administration. But that didn't keep co-hosts Steve Doocy, Brian Kilmeade, and Gretchen Carlson from saying it was a White House idea.
Over a chyron that reads, "Cable Shows Plan To Apologize For Hiroshima," Kilmeade begins by noting how much they "despise" WikiLeaks for compromising our security, then dives right into a classified "Secret" cable. To save time, I will bold the items reported by the Fox news morning program that are actually NOT in the cable:
"The president, in 2009," Kilmeade said, "was heading to Japan, at which time evidently the White House had a great idea. Let's apologize for dropping that bomb on Hiroshima."
He then asked, "Guess who stopped it?"
Co-host Gretchen Carlson took the hand-off, saying, "A Japanese official who said, look, we don't want any apology for that because actually, we sort of need to keep the nuclear threat alive because of the people — the countries that are betwixt around us, speak of China and maybe North Korea. Those country's that are a threat or could be to Japan. According to Wikileaks and this report, the Japanese official is the one who contacted the White House and said let's not apologize for Hiroshima."
Then, Steve Doocy chimed in to recount the President's non-proliferation messages at that time, and added, "The Japanese just felt for him to go to Hiroshima, Nagasaki, to make that message, you know,to apologize for bombing them, that was a nonstarter."
Right at the end, Doocy skeptically reads a White House statement denying there was ever a plan for the President to apologize.
Here's the part of that report that's true: Japanese Vice Foreign Minister Mitoji Yabunaka did call a Hiroshima apology a "non-starter," and the White House did issue a statement. None of that other stuff is in the cable in question, or anywhere else. In fact, the cable from Ambassador John Roos is quite explicit as to how the subject of an apology came up. Vice Foreign Minister Yabunaka was already discussing proliferation issues (he favored "something like dismantling all plutonium-based programs at the outset in exchange for normalization of relations" with North Korea), and volunteered the following:
VFM Yabunaka pointed out that the Japanese public will have high expectations toward President Obama's visit to Japan in November, as the President enjoys an historic level of popularity among the Japanese people. Anti-nuclear groups, in particular, will speculate whether the President would visit Hiroshima in light of his April 5 Prague speech on non-proliferation. He underscored, however, that both governments must temper the public's expectations on such issues, as the idea of President Obama visiting Hiroshima to apologize for the atomic bombing during World War II is a "non-starter."

While a simple visit to Hiroshima without fanfare is sufficiently symbolic to convey the right message, it is premature to include such program in the November visit. Yabunaka recommended that the visit in November center mostly in Tokyo, with calls on the Emperor and Prime Minister, as well as some form of public program, such as speeches, an engagement at a university, or a town hall-like meeting with local residents.
So, if an apology was anyone's "idea," it was the Japanese diplomat, channeling public speculation. Nothing in there about the President having offered an apology, or about not wanting an apology, or about keeping the nuclear threat alive. All of that stuff was simply false.
I can understand being skeptical, and those who want to read more into this are certainly welcome to take the White House's statement with a grain of salt. While other reports contained later clarification, they didn't contain complete falsehoods. But the denial isn't really important in this case, because there's absolutely no evidence that what they're denying ever happened. The White House could put out a statement that says, "President Obama did not create the Earth," and some people would question it, but that WikiLeaks cable no more supports that assertion than it does Fox and Friends'.
Mediaite Managing Editor Colby Hall reached out to Fox News and we've been told that they now plan to address this tomorrow morning.
Here's the clip, from Fox News' Fox and Friends:
Have a tip we should know? tips@mediaite.com