Fox & Friends' Gretchen Carlson Angrily Rails Against Payroll Tax Compromise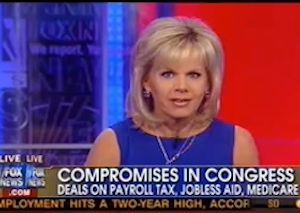 Congress has reached a tentative agreement to extend three economic policies set to expire at the end of the month, plus the payroll tax credit through the end of the year, but many conservatives were not happy, including Fox and Friends anchor Gretchen Carlson, who flew into a rage over the deal.
"This is what Americans should be upset about with regard to politicians, folks!" Carlson fumed. "This is pure political theater! No one on either side of the equation, even independents, do not want to be the ones that the President can point the finger at and say, 'You raised taxes on the middle class before the election.' This is total politics and it's driving me crazy."
RELATED: Karl Rove Concedes House GOP Blew It On Payroll Tax
Carlson played clips of some politicians complaining about the deal, before re-launching into her diatribe. "Here's my question — does this create jobs?" Carlson continued. "It doesn't! And that's why this is political theater and this is the new normal, I believe. This is the new normal now. What politician is going to say, 'Hey, by the way, we're going to actually put that tax back into action?'"
"Not during an election year," co-host Brian Kilmeade added, winding up Carlson a little more.
"It does take away Obama being able to point the finger at Republicans and saying, 'They're against the middle class.' In an election year, I understand that part of the equation. but folks, we're broke! We are broke and this money is what goes to fund Social Security which we already can't afford…"
Kilmeade pointed out that gas prices were up 83% since President Obama took over, saying that the money Americans might save with a payroll tax holiday can instead go to paying for gas.
Watch Carlson's reaction to the deal below via Fox News:
Have a tip we should know? tips@mediaite.com