Fox and Friends Laments Publicizing DUI Record Of Unemployed Plumber At Obama Beer Summit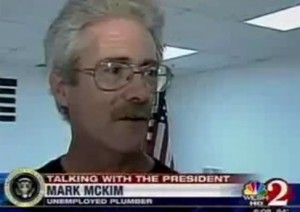 President Obama took a few minutes, during his recent Florida trip, to sit down with Orlando Mayor Buddy Dyer and four unemployed workers for a round of beers. Fox and Friends reported, this morning, that one of the men the President broke liquid bread with Tuesday night was arrested for DUI five years ago, and questioned whether anyone at the White House "vetted these guys?"
Co-host Gretchen Carlson also lamented how unfortunate it was that the man, Mark McKim, would "get a lot of publicity about this."
Steve Doocy then blames the White House for the publicity that Fox and Friends is giving to Mr. McKim's record, saying, "That's very unfortunate, the guy with the DUI record, you would think that somebody would vet those people around the table. but apparently the vetter was busy that day."
Brian Kilmeade then underscored what a terrible break it was for Mr. McKim that Fox and Friends was reporting on this, saying, "That's not good for him. What he did in the past is now front and center, But I'm sure it was great to have a beer with the President.
Here's the clip, from Fox and Friends:
The funny (not "ha-ha" funny) thing is, as of this morning, Fox and Friends is the only national program reporting on poor Mr. McKim, according to the TVEyes transcript database. All Fox and Friends had to do to keep from blowing Mark McKim up was to stop caring so much about making the White House look bad. The "news hook," if you can even call it that,was that the White House supposedly didn't "vet" the four guys who were having a beer with the President. Fox and Friends doesn't say, but there appears to have been no effort made to confirm what involvement, if any, the White House had in selecting the men.
This is not to minimize the seriousness of driving under the influence, which is a potentially murderous act. It's about the news value of the story. There is some superficial irony inherent in the story, of course, but it doesn't look like anyone tried to put any flesh on those bones. Mr. McKim's arrest was five years ago, so it's unlikely that, as CNN and Redstate's Erick Erickson puts it, "Maybe that's why he is unemployed."
There could be an uplifting tale of redemption at the heart of this story, but since there's a chance to score a petty point against a political foe, why bother? Mission already accomplished.
This has echoes of another media conflagration from the 2008 election cycle. When Joe the Plumber burst onto the national scene, thanks to his questioning of then-candidate Obama and John McCain's constant debate night invocations of his name, conservatives were outraged that the media dared to look into his background. Mr. McKim is also a plumber, but unlike Joe, he didn't invite the spotlight. I wonder if there will be similar outrage on his behalf.
For what it's worth, that photo op and F&F's report on it aren't all people have to go on about Mark McKim. Here's an interview with McKim by local Orlando TV station WESH 2:
Have a tip we should know? tips@mediaite.com