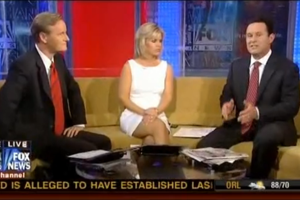 Fox News usually tries to keep the tone of the morning somewhat friendlier than the severe, combative tone of their primetime lineup, but this morning, Steve Doocy, Gretchen Carlson, and Brian Kilmeade could not keep from fuming on air about the proposed Islamic center to be built near the World Trade Center memorial. While Doocy and Carlson kept their discomfort with the project to questions about its appropriateness, Kilmeade called the project "an absolute insult" to the memory of the 9/11 victims.
The initial take on the question of the Islamic center they presented was whether the entire thing was appropriate, especially in the context of whether or not the center would be a mosque or a complete community center. As Carlson explained, "they are now not going to actually call it a mosque, they're going to call it a community center, and community sort of has that ring to it that its sort of everyone coming together, but is that really the case?"
Kilmeade certainly didn't seem to think so, first expressing outrage over the fact that the center was being funded by Muslim organizations based outside of the US and later expressing complete disgust at the idea:
"This is taunting. This is an absolute insult, especially to those 9/11 families who are going to be able to go down there shortly, in a couple of years we hope, anyway, and give tribute to their loved ones– that'll be, essentially, their cemetery, a place to go and learn about that day. And across the street you're going to have an Islamic learning center? At the very least it shows a crassness and a callousness to the US"
Doocy, the quietest of the trio during the segment, added commentary from an islamic leader that considered the area to be a place that should be somewhat off-limits to strong expressions of Islamic faith over American patriotism.
Video of this morning's segment below:

Have a tip we should know? tips@mediaite.com