Fox and Friends: Sarah Palin Says 'Fight Like a Girl' in 'That Distinctive Voice'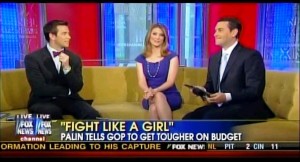 On Sunday morning's Fox & Friends, co-anchors Dave Briggs,  Molly Line, and Clayton Morris opened the show's third hour with a rundown of Sarah Palin's speech to a Tea Party crowd in Wisconsin. The team played a teaser clip of Palin saying the GOP needs to "fight like a girl," with Line cutting in to note "that distinctive voice!"
Line's remark was obviously not intended as a slam against Palin, but it didn't exactly sound like a compliment, either.
Later in the segment, a purple bow-tied Briggs (perhaps channeling Tucker Carlson in his Erotic City phase) offered his own interpretation of Palin's entreaty, saying "They (girls) gossip, they do it behind your back. Just kidding, ladies!"
Zing!
The rally also included a Tim Pawlenty jab at the President, as the former Minnesota governor suggested Republicans borrow a line from Donald Trump, suck all of the energy out of it, and tell President Obama "You're fired!"
Although many news shows take pains to point out potential conflicts of interest, Fox & Friends didn't include "Fox News contributor" in Palin's introduction.
Fox & Friends did report that Palin's speech was greeted with protests, but failed to note that one portion of her speech, in which she defended Gov. Scott Walker (R-WI), was in response to chants from the protesters. From The Associated Press:
Hundreds of labor supporters surrounded the rally, trying to drown Palin out with chants of "Hey-hey, ho-ho, Scott Walker has got to go!" and "Recall Walker!"

"Hey, folks! He's trying to save your jobs and your pensions!" Palin yelled into the microphone. "Your governor did the right thing and you won! Your beautiful state won! And people still have their jobs!"
Only time, of course, will tell just how many jobs Walker saved, but it's good to see Palin validating the metric.
Have a tip we should know? tips@mediaite.com