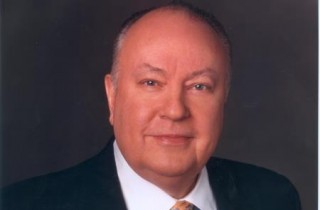 The long-fought PR battle over revelations coming out of Gabriel Sherman's forthcoming Roger Ailes biography has begun this week.
The New York Times was the first publication to print multiple claims from The Loudest Voice in the Room, including one involving a major TV CEO and his prior experience with Ailes. But all of the incidents cited by the Times were swiftly denied by either Fox News, Ailes, or other people involved.

The most noteworthy accusation stems from an alleged altercation from 20 years ago at CNBC. According to the book, the network's then-president Ailes called his rival David Zaslav an anti-Semitic name including words like "little" and "Jew." Ailes specifically denied the claims, as did Zaslav, who is now the CEO of Discovery Communications:
"We fought with each other and we fought with a lot of other people," he said Tuesday in a phone interview. "But this allegation is false." He added that he and Mr. Ailes were now friends.
Nevertheless, Sherman noted Zaslav's denial in the book's source notes, and cites former NBC executive Bob Wright — a "long-time detractor" of Ailes — as saying "My conclusion was that [Ailes] probably said it," based on an internal investigation of the incident.
For the book, Sherman claims to have interviewed 614 people who have known or worked with Ailes. One of those former employees — a producer — relayed an anecdote in which she claims Ailes offered her an additional $100 each week in salary "if you agree to have sex with me whenever I want."
Like the other charges printed by the Times, this one was swiftly denied by Fox, who also took the opportunity to point out that Sherman was not given any first-hand access to Ailes:
"These charges are false. While we have not read the book, the only reality here is that Gabe was not provided any direct access to Roger Ailes and the book was never fact-checked with Fox News."
The book's publisher Random House, however, stands by the claims and the book. Spokeswoman Theresa Zoro told the Times that the company believes Sherman's book is "an objective and rigorously reported account of Roger Ailes's life and his running of Fox News. We fully stand by the book. If anyone has issues with it, we will respond with the facts as Gabe Sherman has reported them."
We suspect the battle between Fox and Sherman won't end here.
— —
>> Follow Andrew Kirell (@AndrewKirell) on Twitter
Have a tip we should know? tips@mediaite.com