Fox 5 New York has come under some minor heat after making the bizarrely inartful decision to blur Pablo Picasso's Women of Algiers during an evening news segment about the famous painting's record-breaking auction sale for $140 million.
This is how the legendary Les Femmes d'Alger (Version O) looks normally: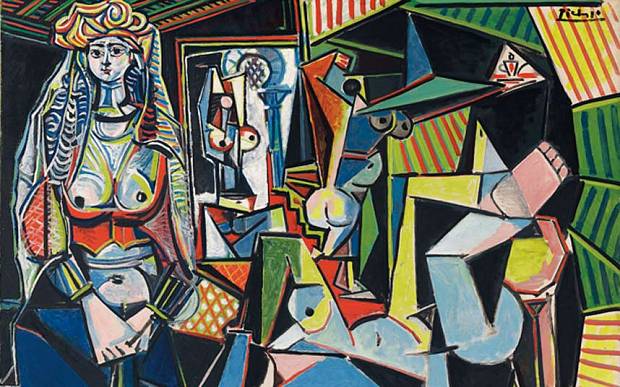 And this is how the painting looked during Monday's 10 p.m. news broadcast: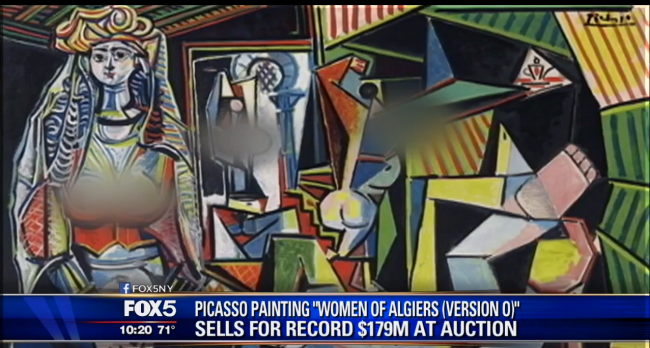 "We decided to blur the nude portions so that we could show it to you, on-air," co-anchor Dari Alexander told viewers.
New York Magazine art critic Jerry Saltz noticed the blurring and had some choice words for Fox:
How sexually sick are conservatives & Fox News? They blurred parts of the Picasso painting. #SickMinds pic.twitter.com/5PGw5h5iBs

— Jerry Saltz (@jerrysaltz) May 13, 2015
(Of course, this was WNYW — the Fox Broadcasting Company's flagship station — and not the Roger Ailes-helmed Fox News. So not sure why he mentioned "conservatives," unless he meant to swipe at our bizarrely Victorian fear of the female nipple — in which case, yes.)
Oddly enough, WNYW's early morning show, Good Day Wake Up, aired the painting completely uncensored shortly before 6 a.m. that same day: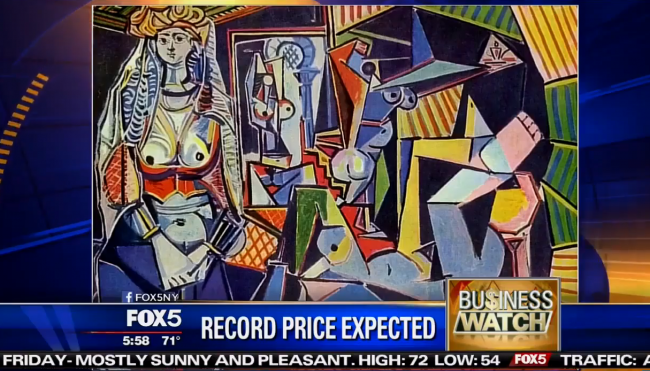 So… what gives? Apparently, according to WNYW, modernist boobs are okay in the morning hours, but not at night. Anytime after 6 a.m., everyone must think of the children!
UPDATE — 12:30 p.m. ET: A Fox rep pointed out to us that Thursday morning's edition of Good Day New York contained a segment of the hosts poking fun at their own network for blurring the artwork on Monday evening. Watch that below:
—
Watch the blurred evening broadcast below:
And the uncensored morning broadcast:
— —
>> Follow Andrew Kirell (@AndrewKirell) on Twitter
Have a tip we should know? tips@mediaite.com