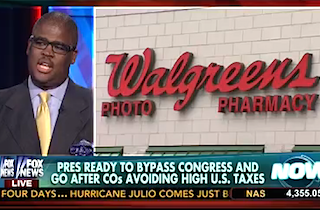 This week, the Walgreens corporation announced that it would not pursue the increasingly popular inversion maneuver to become a Swiss company after completing its takeover of the European brand Alliance Boots. The decision to remain a U.S.-based company, despite the massive tax bill it could have avoiding by inverting, was hailed as patriotic by those, including President Barack Obama, who have publicly assailed the practice. But according to Fox Business host Charles Payne, it was a "shameful" move.
Neil Cavuto brought up the story on his Fox News show Wednesday, noting that the Obama administration is currently weighing executive action that would "punish companies" by closing the loophole that currently allows them to avoid taxes by transferring their headquarters overseas.
"I think he scored a huge victory today," Payne said of Obama, "when the CEO of Walgreens — they made an acquisition of a company, they had an opportunity to do inversion. Instead they said no, we won't." He said that decision caused Walgreens stock to lose $10 billion in value and will lose billions more in profits that they would not have to pay have they inverted and left the U.S.
"So essentially, the CEO of Walgreens destroyed capitalism, shareholder rights," Payne continued. "He not only blinked, he gave the president so much ammunition." He added, "It was one of the most shameful moves I've seen a CEO do in a long time."
"Sounds like the guy folded like a cheap suit," Cavuto added.
Walgreens stock closed down nearly 15% on Wednesday, but has gained back about 3% as of this afternoon. CEO Greg Wasson predicted the company's earnings would be "flat to a little up" in 2016 during a conference call with Wall Street analysts.
Watch video below, via Fox News:
[Photo via screengrab]
— —
>> Follow Matt Wilstein (@TheMattWilstein) on Twitter
Have a tip we should know? tips@mediaite.com