Fox Business Launches Show With Strong Political Slant – Toward Libertarianism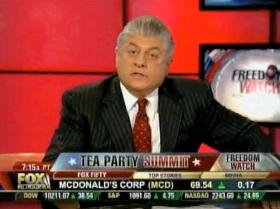 There are the cable news shows that lean left (Countdown with Keith Olbermann) and shows that lean right (Sean Hannity's).
Now there's a show that leans hard, but neither direction – Judge Andrew Napolitano's Freedom Watch on FBN, which is profiled today by the New York Times. But what is the relationship to the tea parties?
Napolitano's program debuted Saturday at 10amET on Fox Business Network, and it continued the tone of the show that initially began as a Strategy Room hour on FoxNews.com. "From New York, defending freedom, so long America," said Napolitano as he closed out the first show.
The NYT's Brian Stelter writes the program is "is arguably Tea Party TV in its purest form to date," and its hard to argue otherwise after show #1. The show was called a "Tea Party Summit," and just about every interview dealt on some level with the tea parties. There was an interesting, joint interview with Sarah Palin and Rep. Ron Paul on fractures in the party (video below). Other guests included tea party favorites Rep. Rand Paul, Rep. Michele Bachmann and Dick Armey.
Stelter notes Freedom Watch is just the latest in libertarian programs on the network, which recently added John Stossel's Stossel last year.
Libertarians are not surprisingly big fans of the move, with Lew Rockwell calling the show "the most important libertarian broadcast in the history of the American media." Meanwhile, others like liberal commentator Bill Press say its a pure ratings move, and that Fox "just decided to make it the second propaganda channel." As a response, A Fox Business spokesperson tells Mediaite, "If anyone is familiar with being a ratings killer it's Bill Press who hasn't been able to maintain a steady hosting job on television since being dumped by CNN in 2002 and having his show canceled by MSNBC in 2003."
Napolitano will surely find interesting topics to explore from a libertarian bent (look for Glenn Beck as a guest next week), but will the tea party theme continue beyond episode #1? As the summer months heat up, and town halls once again find their way into the cable news stream, it would make sense to keep up the coverage.
Check out Palin/Paul from Saturday:


—–
» Follow Steve Krakauer on Twitter
Have a tip we should know? tips@mediaite.com