Fox Business Network Drops Bolling, Napolitano Shows In Primetime Shuffle
Fox Business Drops Bolling, Napolitano Shows In Primetime Shuffle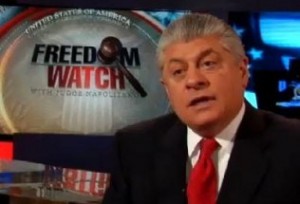 In a surprise announcement Thursday afternoon, the Fox Business Network announced a major makeover of its primetime lineup. The new look slate will feature re-airs of The Willis Report, Cavuto, and Lou Dobbs Tonight, while ending the runs of FreedomWatch with Judge Andrew Napolitano, Power & Money with David Asman, and Follow the Money with Eric Bolling. In addition, the network will be developing a new show featuring Melissa Francis, which will eventually air at 5 p.m., bumping Gerri Willis' live show to 8 p.m. (Willis will air live at 5 p.m. with re-airs at 8 p.m. until the second quarter).
According to the release, Napolitano and Bolling will remain with the network in different roles:
Judge Napolitano will continue his role on both FOX Business and FOX News, providing key legal insights surrounding the growing intersection between Washington and Wall Street. In addition to co-hosting The Five on FNC, Eric Bolling will also lend his unparalleled expertise on oil and energy stemming from more than 20 years on the trading floor to both networks as a commodities contributor.
Asman will retain his role as co-anchor of After The Bell at 4 p.m.
Kevin Magee, Vice President of FBN, said that, "this new lineup affords FOX Business viewers additional access to their no-nonsense take on the day's financial events. We look forward to Judge Napolitano, David and Eric continuing to make significant contributions to both FOX Business and FOX News. In addition to daily branded segments, each of them will be showcased throughout future programming on both networks."
Have a tip we should know? tips@mediaite.com