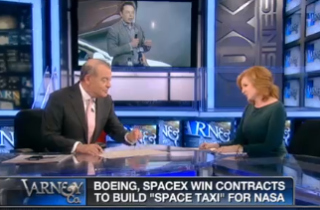 Fox Business Network hosts Stuart Varney and Liz Claman found themselves in a sparring match Wednesday morning when the latter dismissed her colleague's concerns about an upcoming interview subject.
Claman appeared on Varney & Co. this morning to tease her exclusive interview with Elon Musk, the Paypal co-founder whose SpaceX company was awarded a massive contract with NASA, and whose other company Tesla was given a multi-billion dollar "tax incentive" package from Nevada.
"I've got a bone to pick with you," Varney told his colleague. "I've just publicly called Elon Musk one of the great innovators — and I believe that he is — but, Liz, he is addicted to tax breaks and government money."
Claman pushed back: "Why don't you see it — if this is the network of 'The Power to Prosper' and 'Capitalism Lives Here' — that he's addicted to job creation?" She then ran through Musk's extensive resumé of entrepreneurial ventures.
-RELATED: 'You're So Goddamn Dumb': Fox's Charlie Gasparino Shouts Down Colleague over MH17
Varney rebutted that some of that job creation comes through cronyism: "[Musk] traded tax breaks," he said. "He got tax breaks in California and traded them for advantage for his stock. What kind of capitalist is that?"
"You sound now like a Democrat, actually!" Claman remarked. "Some of the Democrats in Nevada were against giving him the big opportunity of the $1.3 billion tax break to, of course, build the 'gigafactory,' but it equals — I'm surprised you don't see this side of the coin — 6-to-6,500 jobs, and that's inside the factory."
"No, no, no," Varney responded, tapping his pen on the desk. "You are wrong, young lady."
"Are you going to let the Wall Street Journal op-ed page do your homework for you?" she joked in return, referring to the paper's editorial slamming Musk for using the state of Nevada for tax subsidies.
"Yes, I often do," he smiled.
Watch below, via FBN:
— —
>> Follow Andrew Kirell (@AndrewKirell) on Twitter
Have a tip we should know? tips@mediaite.com