Fox Business Reporters Rail Against Twitter for Snubbing Them in Favor of CNBC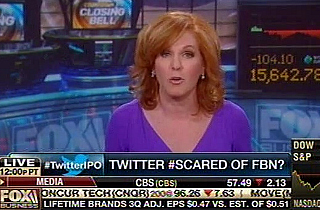 Fox Business Network anchor Liz Claman opened her 3 p.m. show Thursday afternoon railing against Twitter for snubbing her network's requests for an interview on the day of the social networking site's initial public offering. Claman also slammed "another business network" for, she believes, dictating how Twitter handles its press relations.
"We need to let you guys know something that we found disturbing," Claman opened the show. "Twitter refused to give us a Fox Business interview today. Were they afraid that we were the only business network that would ask tough questions? I mean, I don't know, right?"
She lamented how the snubbing came despite the fact that "we were the first business network to ever put [Twitter] on-the-air back in 2008."
"Our producer was escorted away from [Twitter]," Claman alleged before scolding the company: "So in their young life as a publicly-traded company, always claiming they think independently, did twitter allow another business network to tell them how and where they can get their shareholders' message out?"
She was obviously referring to rival network CNBC, who had earlier aired an "exclusive" interview with Twitter CEO Dick Costolo in light of today's IPO.
When reporter Nicole Petallides joined the discussion, Claman continued to rail against Twitter, adding: "Absolutely stunning how we were treated and, frankly, not a good sign that this company is not ready for the big leagues."
Petallides herself joined in on the Twitter-bashing:
The first thing that they should have done was accepted a nice interview offer from Fox Business. I mean, I think that we are a leading business network. I think that we cover stories fairly, quickly, [in a] very balanced manner. And there was no reason for them to say no to us. If they selected to do another network — whether they wanted to do that — that's their choice. But why snub Fox Business? There's no reason for it. I think we would have done an excellent job, it would have been a great interview.
"Twitter #Scared of FBN?" was the chyron that ran throughout the segment.
Watch below, via FBN:
— —
>> Follow Andrew Kirell (@AndrewKirell) on Twitter
Have a tip we should know? tips@mediaite.com