Fox Conservative Pundits Pan Obama's 'Embarrasing,' 'Empty,' 'Predictable' SOTU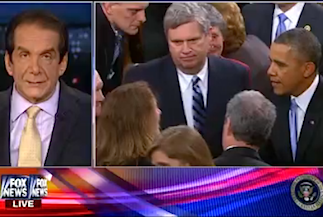 Immediately following President Barack Obama's State of the Union speech Tuesday night, a panel of Fox News pundits led by Bret Baier weighed in on her performance and the content of the address. For the most part, they were underwhelmed.
Charles Krauthammer began by admiring Obama's "conviction" giving the fact that the speech was relatively "empty" of content. "I would call it the chestnut speech, there were so many old chestnuts that were shown it was almost embarrassing," Krauthammer said of Obama's attempts to re-introduce elements of his 2013 State of the Union that failed to move forward in the intervening year. He was also surprised there was "no overarching theme" for the speech.
A. B. Stoddard commended Obama for trying "to be upbeat" but overall found the speech to be "quite predictable," saying, "he didn't break a lot of new ground, he didn't make any surprise announcements." She added, "He was trying to strike a hopeful tone that he can sort of revive his relevance before he is a lame duck."
Next, George Will called Obama's address "agreeably harmless." There were "no big ideas" but rather things that "poll well" like the minimum wage but "won't really change America in a meaningful way." One thing Will did not hear was the "red meat for the carnivorous left" that he had expected.
Even the liberal member of the panel, Kirsten Powers thought the White House "oversold" the speech and did not contain as much "urgency" as promised. "I was expecting more of a, you know, 'We're in really dire straits and that's why I have to pull out my pen, and why I have to take things into my own hands,' and that was really missing from the speech."
Watch video below, via Fox News:
[photo via screengrab]
— —
>> Follow Matt Wilstein (@TheMattWilstein) on Twitter
Have a tip we should know? [email protected]