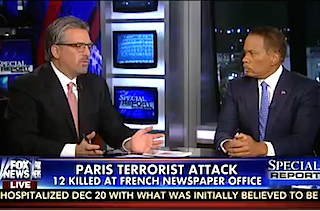 Following the deadly terrorist attack on Charlie Hebdo's offices in Paris earlier today, most major media organizations have said they will not be showing image from that French magazine's controversial cartoons featuring the Prophet Muhammed. During a discussion about the shooting on Fox News Wednesday evening, Weekly Standard columnist and Fox contributor Stephen F. Hayes called it "appalling" that outlets are choosing to censor the images, especially after what happened in Paris.
"I think that is appalling," Hayes said of the New York Daily News' decision to blur a cartoon in a photo on its website. "If ever there were a time to show these cartoons, it's now. And I don't think it's an exaggeration to say that by choosing not to do that, you are in effect letting the terrorists win."
Agreeing with Hayes, Juan Williams suggested the news organizations, including Fox, should "stand up, man up" and show the "offensive" cartoons on air. "I am deeply Christian… but to me, I don't take out a gun if you start making a joke about Jesus Christ. That's crazy!"
Host Bret Baier indicated that Fox had shown images of the cartoons containing Muhammed in a previous report from chief White House correspondent Ed Henry earlier in the hour, but a review of that segment found that they only showed a less controversial Charlie Hebdo piece as seen below: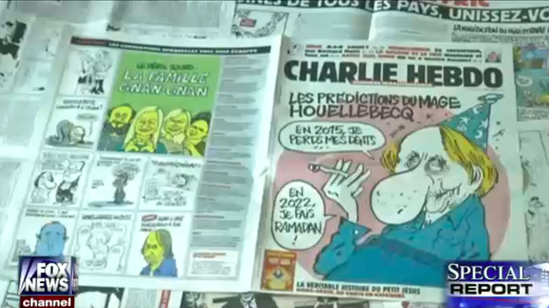 The network did air cartoons featuring the Muslim prophet earlier in the day on Fox & Friends, but since then a spokesperson for Fox told Mediaite they have "no plans to air" the images again.
Watch video below, via Fox News:
[Photo via screengrab]
— —
>> Follow Matt Wilstein (@TheMattWilstein) on Twitter
Have a tip we should know? tips@mediaite.com