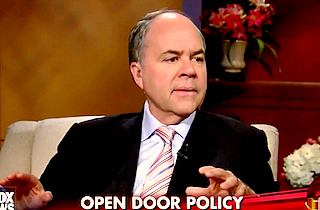 Fox's Peter Johnson Jr. told Fox & Friends Tuesday morning that "determinations on ebola based on science and not politics" when it came to restricting or banning travel from west Africa.
Fox has been pushing the "ban flights" response across every show for days now, with Brit Hume claiming that the U.S. government has not offered believable arguments against the travel ban, suggesting they were hiding the real reason. Johnson intimated Tuesday that reason was that the U.S. was trying to avoid "stigmatizing" African countries, though the comments he cited did not come from the Obama administration.
But he then reviewed CDC Director Tom Frieden's op-ed for Fox, in which Friedan offered multiple policy-based arguments for avoiding a travel ban to Fox itself five days ago.
"We don't want to isolate parts of the world, or people who aren't sick, because that's going to drive patients with Ebola underground, making it infinitely more difficult to address the outbreak," Frieden wrote in an op-ed for the network. "It could even cause these countries to stop working with the international community as they refuse to report cases because they fear the consequences of a border closing." (CNN's Dr. Sanjay Gupta offered more arguments against the ban Monday.)
Johnson also cited another expert who said computer modeling suggested travel bans would only delay, but not prevent, the spread of the virus.
"Let's remove the politics from the analysis and let's talk about it," Johnson said. "The president should bring the top scientists in the world to the White House this week and he should make the decision himself about whether or not we should be banning travel."
Watch the clip below, if that's your thing, via Fox News:
[Image via screengrab]
——
>> Follow Evan McMurry (@evanmcmurry) on Twitter
Have a tip we should know? tips@mediaite.com