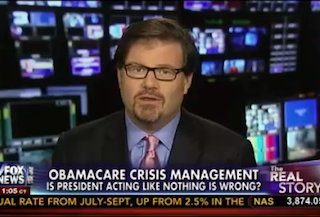 There has been much speculation about what the results of Tuesday's gubernatorial race in Virginia mean for the future of American politics, but one thing we do know for sure is that Democrat Terry McAuliffe emerged victorious. Or did he? As the National Review's Jonah Goldberg put it in on Fox News Thursday afternoon, McAuliffe's narrow win amounted to a loss for Democrats and a repudiation of the Affordable Care Act.
Goldberg joined Gretchen Carlson on The Real Story to discuss the current state of the Obamacare website. "Look, at the end of the day, the only way this works out for the Obama Administration is if they create a lot more winners than losers. And right now they're creating a lot more losers than winners. And he makes it sound as that once this website works, everybody that gets to the exchange will be happy with what they find. And there is a lot of reason to believe that is not true."
While Goldberg could admit that people who couldn't afford health insurance before will now be able to thanks to government subsidies, he dismissed that achievement as nothing more than a government hand-out. "People like getting free stuff," he said. "But for the millions of middle class people who have been told they can keep their plan, or if they don't like their plan, they'll be getting something better and cheaper on the exchange, there is not a lot of evidence that say all of those people will be happy with what they find."
Turning to the election results in Virginia, Goldberg rejected any positive spin from "the guys on some other networks" who believe McAuliffe's victory means bad things for the tea party. "We saw Terry McAuliffe with a double digit lead blow it because of Obamacare," he said. Whether Republican Ken Cuccinelli was "flawed candidate" or not, Goldberg argued that voters knew all that before the gap narrowed. "The only new information that coincided with Terry McAuliffe's plummet in the polls was Obamacare" he continued.
As for Democratic senators up for re-election in 2014, Goldberg said, "They're looking at a Democrat losing–I mean, 10 points, and almost losing the entire race–because of Obamacare."
Of course, in politics, "almost losing" still counts as winning.
Watch video below, via Fox News:
[photo via screengrab]
— —
>> Follow Matt Wilstein (@TheMattWilstein) on Twitter
Have a tip we should know? tips@mediaite.com