Fox Contributor: Snowden Not A Hero, He's A 'Coward,' 'Fugitive' And 'Traitor'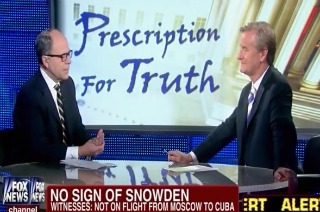 During Monday's Fox & Friends, a Fox News legal analyst attacked National Security Agency leaker Edward Snowden for being a "coward" and not returning to America to face charges of espionage. He said that, if Snowden was a true patriot fighting for the American system of government, he would turn himself in and face a jury of his peers.

"If Snowden were a true patriot, wouldn't he be standing up for himself here in the United States?" asked Steve Doocy.
"Well, he's not a patriot," said Peter Johnson Jr., "and he's not a whistleblower. He's a fugitive. He's arguably a traitor."
Johnson said that Snowden has now been implicated in giving "aid and comfort" to nation's like Russia, China, and Venezuela. He characterized Snowden's search for asylum as a "tour of America-bashing."
RELATED: On The Run: NSA Leaker Edward Snowden's Flight To Cuba Departs — But He Isn't On It
"A lot of us, unfortunately, in this country, 'well, yeah, we're confused. Maybe he's a patriot, maybe he's fighting for the Constitution,'" Johnson continued. "Well, I think Julius and Ethel Rosenberg thought they were fighting for world peace. They were executed."
He added that, if Snowden really believed he was fighting for the American system with his leaks regarding the NSA's practices, he would surrender himself to American authorities and face trial.
Johnson took a jab at Sen. Rand Paul (R-KY) for engaging in "moral relativism" regarding Snowden's case. "This is the freest place in the world," he continued. "We may be a little screwed up at this point, but we can correct it."
"But he can be tried in this country, and he should be tried," Johnson concluded. "And if he wasn't a coward, he's come home and face the charges."
Watch the clip below via Fox News Channel:
> >Follow Noah Rothman (@NoahCRothman) on Twitter
Have a tip we should know? tips@mediaite.com