Fox Contributor Tears Apart 'Agents Of The White House' Colbert, Stewart For Dismissing Benghazi Scandal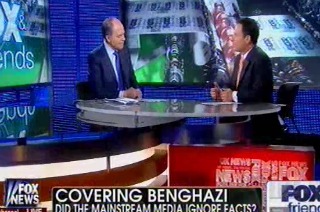 On Wednesday, with three whistleblowers set to testify before Congress regarding their knowledge of the government's response to the deadly attack on an American consulate in Benghazi, Fox News Channel contributor Peter Johnson Jr. tore into the political entertainment media for dismissing the seriousness of that scandal. He singled out Comedy Central hosts Stephen Colbert and Jon Stewart as "agents of the White House," and took on HBO's Bill Maher for reflexively siding against Obama's critics in spite of the increasing appearance that the White House may have misled the public.

"Most left-wing and mainstream media outlets have spent a lot of time ridiculing the search for the truth and to discredit those who are searching to get the truth," said Brian Kilmeade of the investigation into the Benghazi attacks.
Johnson singled out Comedy Central's Colbert Report and The Daily Show as "agents of the White House" in their efforts to mock those reporters and news outlets pursuing the details of the Benghazi attack. Johnson called those programs "the new centurions of media enforcement."
Johnson also singled out Maher who said on November 16, 2012, that conservatives can prove they are "sane" by backing off the claims that the White House advanced misinformation in their effort to explain the delayed response to the Benghazi attack.
RELATED: MSNBC's Jonathan Alter On Benghazi Hearing: 'How Can You Cover Up Nothing?'
"So, the issue became shield the administration from the harm," Johnson said. "Shield the administration from being discredited and, at the same time, discredit the journalists who are involved with that story."
"The question is, how many questions do we have to ask before voters forget President [Barack] Obama killed Osama bin Laden?" asked Colbert asked in 2012 to the cheers of his audience.
"And that was the meme," Johnson declared. "Today, the American people are going to begin to hear the truth of what happened in Benghazi. And the media's been hiding all these eight months."
Watch the clip below via Fox News Channel:
> >Follow Noah Rothman (@NoahCRothman) on Twitter
Have a tip we should know? tips@mediaite.com