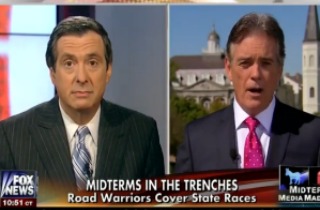 This morning on Media Buzz, Fox News senior national correspondent John Roberts told host Howard Kurtz he had been shunned by Democratic candidate Michelle Nunn's campaign in Georgia since April, and was even denied the opportunity to moderate a debate between Nunn and her GOP challenger.
While most candidates — Democrats and Republicans — have been happy to talk with Fox News throughout the campaign season, Roberts said Nunn's campaign was the exception. He said he once showed up to their campaign headquarters to try to talk with the campaign's communications team, but had no luck.
"For some reason, the Nunn campaign just does not want to talk to Fox News, even though we have been reaching out to them in various ways since about the month of April," Roberts said.
Roberts was also supposed to moderate a debate between Nunn and her Republican challenger David Perdue last weekend, but the Nunn campaign complained and Roberts was removed and replaced with someone from the local Fox channel in Atlanta.
"Despite my long track record of having worked for Fox, CNN prior to that, and CBS News before that for 14 years, they didn't like the idea that someone from Fox would be moderating that debate, so out I went," Roberts said.
He added that if candidates want to garner "Independent, Republican" support, they should be talking to Fox.
Watch the video below, via Fox News:
[Image via screengrab]
— —
>>Follow Andrew Desiderio (@forza_desiderio) on Twitter
[Note: Mediaite intern Andrew Desiderio is a student at The George Washington University.]
Have a tip we should know? tips@mediaite.com