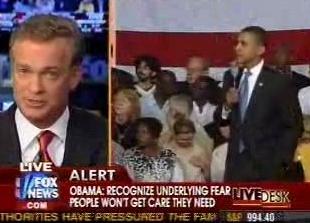 When Sen. Arlen Specter's town hall meeting this morning got contentious, all the cablers were there to cover it live. Fox News spent the most time, giving it 55 uninterrupted minutes (according to TV Eyes).
Then there was Pres. Barack Obama's town hall this afternoon, that each cabler again covered live. But Fox News ended its coverage after just 30 minutes. It was the latest, and one of the most blatant, example of the decidedly non-"fair and balanced" way FNC has covered the town halls, and health care debate.
Jumping out of coverage after just two questions, FNC anchor Trace Gallagher cut in: "The White House says they expected people to come in and yell and shout a little bit. We have not seen that. We have seen a very friendly crowd here so far."
Then he and other FNC analysts debated whether it was right for Obama not to take questions from those who disagreed with him. Juliet Huddy, guest anchoring, noted, "granted we've only seen a couple questions here," before launching into a question that assumed she knew how the rest of the town hall would play out. It was Huddy who later referred to the "plants" in the crowd, and the event as "theater."
What did Fox miss while it was busy knocking the President? Questions from Republicans, those who strongly disagreed with the proposed plan and specific calls by Obama for harder questions. Obama said he wanted questions from people who had "concerns about health care," and people who were "skeptical or suspicious." "I don't want people thinking I have a bunch of plants in here," he said.
To be fair, this was not the most contentious town hall that has ever taken place. Some of that is due to the fact that people are not just talking to their local Congressman, but to the leader of the free world. But also, even if there weren't plants, it wasn't an angry crowd.
But this is symptomatic of a larger problem with FNC's "news" coverage of town halls – it is entirely one-sided and has been during this entire summer. These protesters are the good guys, the Congressmen who say they should maybe wait their turn to ask a question are impeding on their rights to free speech. It is this mentality that leads a news network to ignore the President and his Q&A and focus only on the sharper questions aimed to disrupt.
The one exception to this today was Major Garrett, whose tweets were, as usual, smart and informative during the entire town hall. (Sample: "'I am a skeptic,' says man from Derry, N.H., says he 'turned himself in' to WH website. Obama breaks in, denies compiling 'enemies list.')
The town hall continued, and Fox News continued to avoid it. It was as if an entirely different town hall was taking place. "We are monitoring this live, we are also streaming this live on Foxnews.com. Any contentious questions, anybody yelling, we'll bring it to you here on The Live Desk," said Gallagher. If you don't yell at the Commander-in-Chief, you're not getting Fox News to care!
—–
» Follow Steve Krakauer on Twitter
Have a tip we should know? tips@mediaite.com