Fox Doesn't Declare VP Debate Winner But Discuss Raddatz Interruptions And Biden Smirking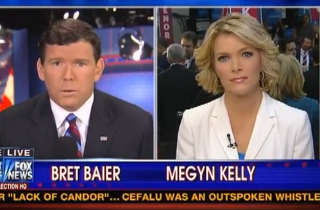 The focus of Fox News' immediate post-debate reaction was largely on the Republican criticism of moderator Martha Raddatz's frequent interruptions, the potentially "smug" image Vice President Joe Biden may have presented for viewers at home, and the more "respectful" attitude GOP VP candidate Paul Ryan possibly presented.
Co-anchor Bret Baier began the network's post-debate coverage by noting that "this was a much different moderating style by ABC's Martha Raddatz than Jim Lehrer in the first presidential debate. She interrupted much more and asked many more pointed questions."
He also noted that "Republicans are already all over twitter, criticizing this moderating style because they feel she interrupted Congressman Ryan much more before he finished his thoughts and perhaps his charges."
"For much of the debate," Baier continued, "[Biden] smiled and laughed in reaction to Congressman Ryan's answers, perhaps an effort to diminish Ryan on stage…. [I]t's interesting to see how that will play at home, whether it will come off as smug, or people will not like that, or it will come off as the vice president hoped it would: relaxed and playing down Congressman Ryan."
Co-anchor Megyn Kelly emphasized that Biden seemed to "make a bit of news there" when he said on-stage that the intelligence committee initially told the Obama administration that it was an anti-Muslim YouTube video that led to the Benghazi consulate attacks. This statement, she noted, is in direct contradiction to what State Department officials testified on Wednesday before Congress.
Kelly seemingly praised Rep. Ryan for "maintaining his cool, not interrupting Joe Biden" and noted that the vice president was "always getting the last word" similar to how Mitt Romney behaved in last week's first presidential debate.
"Paul Ryan looking maybe more respectful but perhaps, in the minds of some, perhaps more weak," she concluded.
Neither anchor declared their pick for "winner" of the debate but their focus certainly did not paint a flattering picture of Biden.
Several minutes later, however, Fox host Chris Wallace blasted Biden's "disrespectful" and "openly contemptuous" treatment of Ryan.
Watch below, via Fox News:
— —
>>
Follow Andrew Kirell (@AndrewKirell) on Twitter
Have a tip we should know? tips@mediaite.com